Google Android 3.0 and Motorola Xoom: Hands-On, and Awesome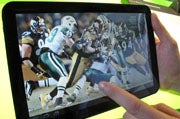 Today I got my first hands-on time with the Motorla Xoom tablet, running Android 3.0. And the one-two punch proved a compelling experience. It's a very different experience than what one gets on today's Android 2.2 tablets (led by Samsung Galaxy Tab), or on Apple's iPad.
When the Motorola Xoom was first introduced last month at the CES show in Las Vegas, we only got glimpses of what it could do. Emphasis on the word glimpses: The demos were videos, run by demonstrators who wouldn't allow hands-on with the device. Today, however, was a completely different experience. After Google's special event at its headquarters to formally introduce Android 3.0, nearly a dozen developers showed off their apps on the Motorola Xoom, and Google staffers showed off how Honeycomb functions, on the Xoom device.
By all appearances, Motorola has a huge advantage over its Android competitors, as they're first in line waiting for the final software developer's kit to be released in a few weeks. Meanwhile, Motorola has said it's aiming to ship the Xoom in late February-which would be about when other tablet makers will first be getting their hands on the SDK.
To recap the basic specs, the Xoom runs Nvidia's Tegra 2 platform, with a dual-core 1GHz processor, 1GB of RAM, and 32GB of on-board user memory (plus an SD card slot). The display measures 10.1-inches, and it packs a 1280 by 800 resolution display.
The Brilliant
Now, to the good stuff, which, from these first impressions, is almost everything else about the tablet. The Xoom felt as if it had good build quality, and its contours made it feel fairly natural in-hand, in spite of the hefty weight.
Beyond my gripe about the smoothness of text, the screen displayed gorgeous photographs. Looking at images of NFL football on the Sports Illustrated app, the players practically leapt off the screen. The capacitive multi-touch screen was super-responsive in conjunction with Honeycomb; speedy swipes and light touches only, thank you.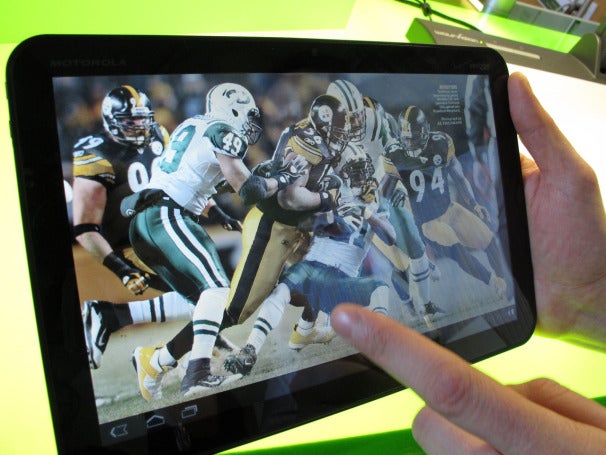 The Xoom's design is optimized for use in landscape mode. The front-facing camera sits in the middle of the display, along the top (or, the right-hand side, if in vertical position). The volume buttons are on the top left corner (or upper right side in vertical position). Along the bottom (in landscape position) are what appeared to be mini-USB and mini-HDMI ports, with no port cover. On the opposite side appeared to be a covered micro-SD card slot.
The rest of my observations on the Xoom reflect the redesigned Android 3.0 and how zippy the functionality was. I could move amongst the five homescreens lickety-split, and even the 3D carousels for music, YouTube, and Google Books moved smoothly and sharply.
I liked the lack of capacitive touch buttons in the bezel; on the Android 2.2 (Froyo)-based tablets I've tried with buttons, I find the buttons tend to get in the way depending upon the orientation of the tablet-I'd activate a menu or go back when I had no intention of doing so. By integrating the navigation buttons into the interface, so it appears on the screen with your content, Google eliminates the annoyances of upside-down home buttons, let alone the concern of buttons being in the way of your palm or forefingers as you hold a device.
The Drawbacks
Granted, what I looked at was a pre-production unit. Still, I was concerned by the fact that much of the text sometimes didn't seem as smooth as I'd have liked to see. That said, Google developers said tweaks are ongoing to the Honeycomb OS; and, it's hard to tell at this early stage whether this is a display question (Motorola didn't announce the pixel depth of its screen), a driver question, or an OS rendering question.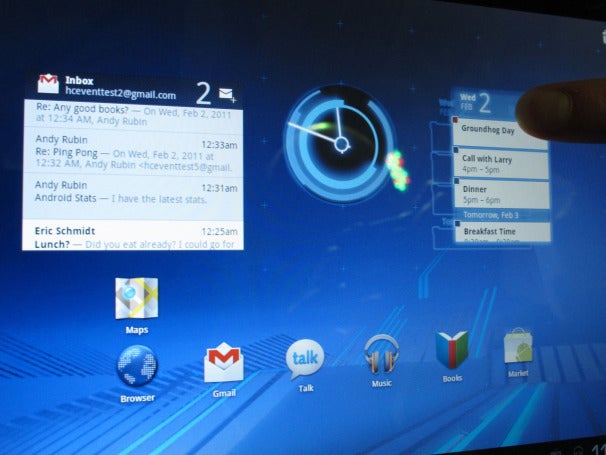 The other thing that jumped out at me was the size. At 10.1-inches, the screen is gorgeous for displaying images, and gorgeous for presenting content. However, the unit felt heavy in-hand, especially for when I'd switch to a single-handed view. That observation tracks with the Xoom's announced 1.6 pound-weight, which is 0.1 pounds more than Apple's first-generation iPad. Its physical dimensions didn't feel awkward, though, in spite of its size; Motorola says the Xoom will measure 9.8 by 6.6 by 0.5 inches. That depth puts it right in line with the iPad, and slightly larger than the Samsung Galaxy Tab.
The third thing that didn't wow me was Honeycomb's newly redesigned camera app. On a device as large as the Xoom, the on-screen button placement and navigation felt awkward, at least to my smaller hands. I need to spend some more time with it to see if I can make it work for me in the long-haul, but my first-blush impression is that this new camera interface could use some more work.
These observations are only based on my limited hands-on with the Xoom tablet. I'm sure I'll find more pros and cons to the device after I spend hours with a shipping review unit. But until then, this early taste leaves me tantalized for more. Xoom + Android 3.0 look set to be a winning combination, one that makes me actually look forward to using an Android tablet.
At a Glance
The first Honeycomb tablet remains a solid choice in large part due to its strong overall performance and complement of ports. But newer models are lighter. Read the full review

Pros

HDMI-mini output
Runs Android 3.0 for smoother tablet OS experience
Good performance
MicroSD Card slot allows additional storage
Solid design

Cons

New OS has a few stability issues
Images don't render properly in Gallery viewer
Expensive
Heavy, at 1.6 pounds
Middling display
Video looked blocky
For comprehensive coverage of the Android ecosystem, visit Greenbot.com.