Page 3 of 3
17. Star Multiple Documents at Once
Adding a star to a document is a useful way to make it stand out from other entries in a homepage list. On the Docs homepage, you can add stars to multiple files by selecting them in the usual way: Hold down Ctrl or Shift as you selecting the file name. Then drag the file name onto the top of the Starred entry in the filter list at the top left of the interface.
18. Find a Video's Technical Details
Right-click the thumbnail preview of any video file on the home page and select Show Video Info to see technical details about the file, such as its resolution.
19. Use the Word Processor to Create Web Pages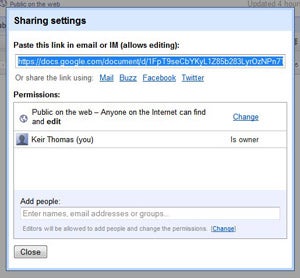 If you find HTML or Website design software a little baffling, you can instead use Google's word processor to create simple Web pages. To insert pictures, click and drag them onto the browser window, as mentioned above; insert links by highlighting the text or image file and pressing Ctrl-K.
Once you've created a page, click File, then Download As, and then HTML (Zipped) to download the data.The resulting folder will contain a single HTML file along with a folder of support files. Rename the HTML file as index.html, and upload that file and the folder of supporting files to your Web space.
20. Save Drawings in Scalable Form
If you create a drawing in Google Docs and want to download it for offline use, be sure to select the SVG option from the File, Download As menu. Doing so will create a scalable file--that is, a drawing that you can resize without causing its quality to deteriorate, unlike JPEG and PNG files.
21. Use Multiple Accounts
A feature recently added to Gmail allows people with more than one Google account to switch between e-mail addresses without having to log in and out. To activate this feature, select My Account at the top-right of your Gmail page and click the Edit button alongside Multiple Sign-On. Then click first the On radio button, and then Save.
Thereafter, you can switch accounts by clicking the dropdown arrow alongside your e-mail address at the top right of the screen. Click Sign in to Another Account to add a new account, but be aware that you're allowed a maximum of three accounts.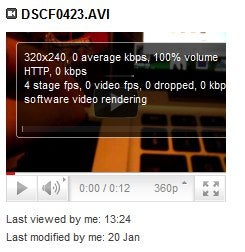 Unfortunately, Google Docs doesn't work with multiple sign-ins. It will remain logged into your primary account, which is the one from which you activated multiple sign-ins (This account will have the word Default situated against it in the dropdown list of log-ins.) If you click a shared document link within an e-mail from one of your other accounts, you'll probably be told that you don't have permission to access that file.
Google Docs, on the other hand, works fine with multiple accounts if you're switching within Google Apps for Business accounts. Therefore, one solution is to switch to Google Apps for Business for your domain. If you intend to create 50 or fewer accounts, it's free of charge.
Getting Better
Google Docs continues to improve practically every month as new features arise. A good way of keeping up with the additions is to monitor the Google Docs Blog, which the team behind Docs writes.
In addition, don't be afraid to click around within Google Docs to find out how various features work; and consider taking time to explore the Google Docs forum, where users write up interesting things that they've discovered.
If we've missed major tips, please add them to the comments section below.