Nokia Partners With Microsoft, Adopts Windows Phone 7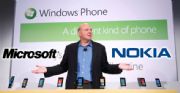 Nokia will adopt Microsoft's Windows Phone 7 as its primary smartphone OS, and partner with Microsoft in areas including mobile mapping, advertising and app development, the companies announced Friday.
(More to follow.)
UPDATE - Follow this link to read the complete report.

Amazon Shop buttons are programmatically attached to all reviews, regardless of products' final review scores. Our parent company, IDG, receives advertisement revenue for shopping activity generated by the links. Because the buttons are attached programmatically, they should not be interpreted as editorial endorsements.