Valentine's day is a tough time of year for geeks.
When they do have a bit of romance in their lives (involving another person) the clues and communication do not always flow freely.
When they don't...well, what's the point?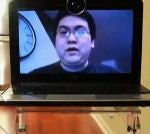 The best example of geek love I've seen this week is Johnny Chung Lee, whose ubergeek credentials landed him a gig at Google that required moving away from his fiancee.
So he built a Skype robot with a laptop on a platform on top of an iRobot Create -- a hobby robot that looks like a Roomba, but without the ability to clean anything, much like the Roomba).
When it's fired up he can remote-control it around his fiancee's apartment with his face on the laptop and a mini camera to see what she's up to.
Which is not creepy at all.
The second geek love puzzle was a plethora of Geek Valentine Gift lists, almost none of which seemed as if they'd be a good idea for anyone trying to keep the love light alive. (See also "Geeky Jewelry for Valentine's Day.")
I don't know whether that's because geeks are hard to date or the list makers are geeks themselves and would therefore not necessarily understand why a gift might not be a good idea.
A gift for a geek would be received much differently than one from a geek, so it's hard to know which direction the lists work.
However, after much research into human-romance interaction algorithms, I've managed to come up with a few evaluation/warnings in case you're considering any of the following which, just because of its early appearance and relatively concise presentation, all come from geek-heavy tabloid-screamy news organ The Register:
Geek Valentine's Day Gifts (and their probable downsides)
iPod Nano? By all means, give one to your SO. Let him or her know you think enough about them to give the least expensive version of entertainment technology that has been passé for at least three years.
HTC Wildfire. Lowish cost HTC touchscreen Android phone. Good phone. Good way to tell your significant other you'll be available only by cell. Bad move.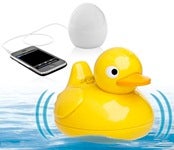 iDuck Floating Wireless Speaker. Very cool. Guaranteed a good response. But you'll never get your geek in the water. It's outside. With the sun. And bugs. And water, which ruins cool new smartphones.
Kanela Enchanted Candle (ThinkGeek has better ones.) Nice gift for boring people. Put the LED in something more interesting. Like a zombie head.
Philips Ambilight. 3D TV. Yawn.
Polaroid 300. A camera that uses film. Quaint.
Twilight DAB/FM Clock Radio and Dawn Simulator. The dawn simulator is supposed to wake you up gently. Dawn means its time to quit gaming and rack for an hour before work. Gentle sunrise is irrelevant.
Sanyo Foot Massager. Excellent. For your grandmother who's a geek.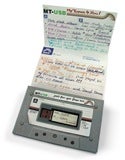 Suck UK Mixtape USB Stick. Looks like a cassette tape. Another thing that's not the thing, but has a USB stick inside instead.
Viewsonic Digital Picture Frame. Package it with the foot massager so your grandmother has something to look at.
Kevin Fogarty writes about enterprise IT for ITworld. Follow him on Twitter @KevinFogarty .
Sign up for ITworld's Daily newsletter
Follow ITworld on Twitter @ITworld
This story, "Geek Valentines That Fall Short" was originally published by ITworld.