Best Bags to Hold Your Tech Gadgets Safely and Efficiently
Page 2 of 2
Osprey Packs Flare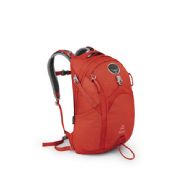 If you prefer a backpack to a messenger bag, or just need something a little more on the rugged side, then the Osprey Packs Flare is a solid contender. The Flare is lightweight, made of weather-resistant material, and has pockets and pouches for all of your essential tech gear.
The Osprey Flare ($79) looks like a hikers' backpack shrunk down to be more compatible for everyday use. It has one zippered main compartment and three exterior elastic pockets with clip closures on the outside of the bag. The adjustable shoulder straps are heavily padded and have chest clips to keep the pack in place. The pack feels comfortable when worn due to the squishy built-in back pads. The outside of the Flare also has numerous loops, clips, and straps for adding on more items.
Inside of the main compartment, you'll find a large pocket designed to hold a 15-inch laptop, another pocket ideal for an e-reader or tablet, and two other small pockets. Between the interior and exterior pockets, I was able to fit all of my tech gear and chargers without a hitch, although I would recommend protective cases and sleeves for anything loose in the main compartment as an extra precaution.
Because of the bags' design, fit, and functionality, the Osprey Flare is best suited for adventurers who need to bring their gadgets along on hikes, camping trips, water excursions, or any other sport or outdoor activity.
Tumi T-Tech Empire Landmark Laptop Messenger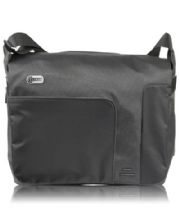 The Tumi T-Tech Empire Landmark Laptop Messenger looks compact from the outside, but don't let that fool you--this messenger bag has a ton of storage options and is comfortable to boot. Plus, its sleek design makes the bag appropriate for a variety of settings.
The Empire Landmark ($165) is an almost-square-shaped messenger bag with an adjustable shoulder strap and a single clip closure. It's available in a few different dual-color schemes, but all subtle and muted for a professional finish.
The outside part of the bag hosts a zippered padded laptop pocket designed for a 15-inch laptop, a smaller zippered pocket on the closure flap for a phone, camera, book, or smaller tablet, and a side pouch with a snap closure to hold a charger or two. You'll also find an expansion zipper--if you need more room, unzipping this will expand the bag outwards by about two inches.
Inside, you'll find one main compartment with seven additional pockets and pouches of various sizes. It also has slots for credit cards and IDs (in case you want to ditch your wallet) along with a pen and pencil case.
I had no problem fitting my tech gear into the Empire Landmark--everything seemed to have a pouch designed to hold that specific gadget, and the pocket organization assured that nothing would get lost or shift places. Because the shape of the T-Tech was more compact, it didn't feel bulky to carry around and was easy to store.
The Empire Landmark would be a good companion for anyone--students, gadget fiends, heavy travelers, others. But its organization and sleek design makes it best suited to be a casual bag for business endeavors.
Bottom Line
While each of the gadget bags tested would work well for niche consumers, the most practical over-the-should bag we looked at is the Tumi T-Tech Empire Landmark Laptop Messenger. Its size and design make it comfortable to schlep around, and the pockets keep all of your tech gear in place for ultimate organization.
If you're in the market for a backpack-style bag, we'd recommend the Airbak Air Tech, which wins points for its extra protection of your gear with its unique air bladder.
Shop Tech Products at Amazon