Page 2 of 2
From Outer Space: Adobe Photoshop 6.0
Codenamed Venus In Furs, the first major release of the new millenium was version 6.0, which hit stores in September 2000.
Changes and new features introduced in this version include various changes to the user interface, the Liquify filter, Vector Shape support, and improvements to layer styles interface, to name a few.
Adding to the web-friendly features introduced in 5.5, version 6.0 added layer-based slicing--handy for web-layout work.
Paint The Sky - Adobe Photoshop 7.0
Version 7.0 of Photoshop, codenamed Liquid Sky, arrived in 2002.
It was the last major version with a numerical-only suffix, and also the last to run on the classic Mac OS 9. In 2003 Adobe released the Camera RAW plugin for Photoshop 7.0, adding the ability to manipulate digital data from an ever-growing range of cameras.
A Matter Of Name - Adobe Photoshop CS
In 2003 Photoshop had a slight name change due to becoming part of Adobe's growing list of creative applications. Adopting the CS (that's Creative Suite) suffix, the eigth major version, which was codenamed Dark Matter, saw a slew of new features.
The 2003 release saw the addition of customizabale keyboard shortcuts, along with the ability to now write text directly onto a set path. Other features introduced include support for larger files, new match color tools, a new layer management tool called Groups, shadow and highlighting effects and more.
In an effort to reduce piracy Photoshop CS was the first version of the program to require product registration.
One impressive feature added into Photoshop CS was the ability for the program to automatically detect when an image of a bank note had been opened or scanned in. This feature was introduced to reduce the ease at which fake currency could be created - clever stuff.
Eye Of The Monkey - Adobe Photoshop CS2
Known as Space Monkey during development, 2005's CS2 introduced the third version of the aforementioned RAW plugin. Space Monkey added support for HDR images and saw the introduction of the red-eye tool from Photoshop Elements.
Other tools added to CS2 included the spot healing brush, smart objects, the smart sharpen feature and the vanishing point tool - perfect for editing image perspectives. CS2 also saw the ability to select multiple layers at once - handy.
Enter The Matrix - Adobe Photoshop CS3
Known internally as Red Pill, CS3 landed in 2007. Noticably speedier, version 10.0 saw a slew of new features and saw improved support for Vista and native support for Intel-based Macs.
10.0 saw the quick select tool added, along with special image optimization tools for creating mobile-friendly files. Changes to the curve, vanishing point, brightness and contrast tools were also introduced adding to the growing range of image-editing niceities on offer.
A Change Of View - Adobe Photoshop CS4
Project Stonehenge, known to you and me as Photoshop CS4, hit shelves just one short year after CS3 in 2007. CS4 featured a number of user interface changes, making the programs design a more simplified and streamlined affair.
Version 11.0 of Photoshop, which added native support for 64-bit versions of Windows Vista, also welcomed in a range of new file management and display options.
CS4 also added improved raw image processing, the addition of the Masks panel, along with changes to the adjustment panel.
Leaping Forward - Adobe Photoshop CS5
The most recent version of Photoshop arrived last year, bringing with it such impressive features as Content-Aware fill and various 3D tools.
CS5, codenamed White Rabbit, also introduced 64-bit support for Mac OS X along with a range of new realistic painting tools.
The Camera Always Lies
So in 21 years Photoshop has come a very long way. What started out as a simple greyscale image handling program evolved, and grew in popularity - to "photoshop" has become a verb, just proving the cultural reach Knoll's program has today.
Photoshop has changed the way digital images are handled, altering the way in which photographs are created. That, and it gave us lolcats, as promised: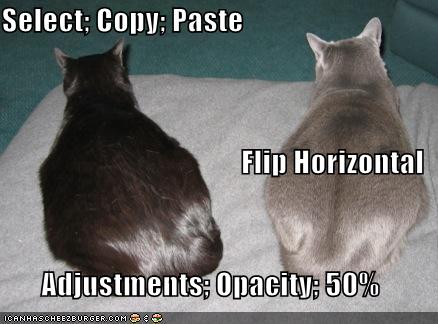 Geek Tip: Each version of Photoshop has an alternative splash screen, which bears its codename: to see it just go to the Help menu and hold down CTRL whilst clicking About.
Get your GeekTech on: Twitter - Facebook - RSS | Tip us off | Follow Chris Brandrick