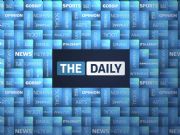 When News Corp. launched "The Daily" a few weeks ago it made a big splash on the tech blogs (including this one) and just as quickly vanished from the spotlight.
[ Get news and reviews on tech toys in ITworld's personal tech newsletter]
Now it's back in the news, thanks to reports that the daily tablet-zine will be coming to Android tablets soon, according to All Things Digital. The fact that "The Daily" is going to appear on devices other than the iPad isn't news: we've known that since launch. What's interesting is that the transition, which ATD says will happen in the second quarter of this year, is happening much sooner than anyone expected.
When "The Daily" launched, News Corp. CEO Rupert Murdoch seemed to imply it would be exclusive to the iPad for the duration of this year and next. Perhaps his quote ("we think last year, this year, and next year will belong to the iPad.") was taken out of context and he was just talking about tablet marketshare in general. Or maybe Apple's 30% cut of subscription costs is already starting to chafe.
It'd be nice if we could call this a big win for Android, but I'm not sure that's the case. Granted it's a vote of confidence in Android from News Corp but considering how quickly everyone forgot about "The Daily," I can't see an Android version being a system seller. Not that Android really has anything to worry about. Check out this video showing Android activations over time, from October 2008 - January 2011 (thanks to AndroidCentral for highlighting this vid). Android seems to be doing just fine.
This story, "News Corp.'s The Daily Headed to Android" was originally published by ITworld.