No LTE For Rooted Motorola Xooms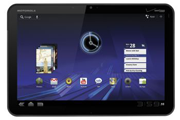 Did you already go ahead and root your shiny new Motorola Xoom? If you did, you are no longer eligible for a 4G upgrade from Motorola. Sending in a rooted Xoom will just result in Motorola sending it back to you, sans 4G capabilities.
This was discovered after a post on the Motorola support forums asking if rooting a Xoom would make it ineligible for a 4G upgrade. While one forum moderator stated that it would, another suggested that you could simply flash the device back to the stock ROM to become eligible again.
As it turns out, you need to be running the stock Honeycomb installation in order to receive the update that allows the 4G antenna to function. If you are running a custom ROM on your Xoom, then there is no guarantee that the update will work.
This is definitely something you should consider if you planned on hacking your shiny new Android tablet.
[Via Phandroid]
Product mentioned in this article
(1 items)
Motorola XOOM Wi-Fi Tablet Computer

The first Honeycomb tablet remains a solid choice in large part due to its strong overall performance and complement of ports. But newer models are lighter.
For comprehensive coverage of the Android ecosystem, visit Greenbot.com.