Page 2 of 2
Case Study: Digital Security System Offers Mobile Monitoring
Property Advisory Group, a real estate developer and management company, manages 2500 units across 25 apartment complexes in five states.
At its 99-unit Mount Vernon apartment complex in Woonsocket, Rhode Island, security staff relied on a strategically placed analog surveillance system. Twenty-five closed-circuit TV cameras around key areas of the building fed recordings to two digital video recorders in a main office.
The problem
If a security problem occurred, retrieving a recording of an incident was laborious at best. Staff often had to call the company that installed the CCTV system to come and help locate the data, which could take several days.
Property Advisory Group needed to close the gap between when an incident was recorded and when staffers could view the footage. The company also hoped to improve the grainy images to identify suspects more easily.
The solution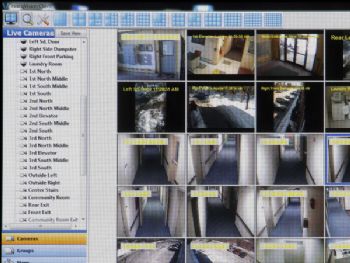 PC Troubleshooters installed ten Axis P3343-series digital network cameras around and inside the building. The weatherproof, shatterproof cameras offer 720p HDTV, 1-megapixel images, superior to those of analog cameras. Motion triggers the cameras to run day or night, and an alarm alerts the administrator if it detects tampering. Users can zoom in to view clear snapshots that show details of locations, such as license plates and facial features.
Each Axis camera is like a little computer with a lens, carrying built-in intelligence that includes motion and audio detection plus awareness of active tampering. Installing each camera with supporting software requires expertise in both networks and surveillance cameras.
Propery Advisory Group decommissioned its analog recorders in favor of a digital network video recorder, a server running Exacq software. Exacq's hybrid video server ties in both the new and old cameras, giving the analog equipment new life. One of the key selling points is that it enables users to view what the cameras see from anywhere at any time, thanks to apps for iPhone, iPad, and Android devices, as well as PC and Mac software clients.
When logged in to the Exacq camera server, staff can watch live feeds from each camera. Every view in a time-and-date-stamped window can open to full screen size. Right-clicking any view allows immediate playback of any motion recorded within the last 15 minutes.
Users can save recordings to their local PC, tablet, or smartphone, and can create a snapshot within a minute of viewing an incident. Not only can they e-mail an image of a suspected crime instantly to local law enforcement, but they can also print a hard copy. Since digital footage is admissible in court, the likelihood rises for a successful prosecution.
The Outcome
The security overhaul cost close to $30,000. Adding cables and cameras and configuring the hybrid video server took about two days.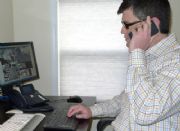 Property Advisory Group continued to benefit from its initial investment in the analog system while reaping the rewards of advanced IP technology and surveillance.
The new system helps to deter potential criminals and protect the property. Most important, under the watchful eyes of security staff, it brings enhanced safety to residents, who are likely to get a faster police response if a criminal strikes.
--Case study submitted by PC Troubleshooters
Founded in 1992 on the University of Rhode Island campus by Eric M. Shorr, PC Troubleshooters provides small and midsize businesses with IT support and maintenance for networks, servers, workstations, applications, and network video surveillance systems. You can find the company at PCTrouble.com.
If you're an IT solutions provider serving the small to midsize business market, and you'd like to learn how you can contribute to PCWorld Tech Audit, send mail to techaudit@pcworld.com. We're always looking for more talented pros.
Tech Audit is written and produced in cooperation with IT professionals in the field. All recommendations and opinions expressed represent the independent judgment of the authors and do not necessarily reflect those of PCWorld or its editorial staff.