Acer's Iconia Dual-Screen Laptop
Acer Iconia 6120

$1,040.00

Amazon Shop buttons are programmatically attached to all reviews, regardless of products' final review scores. Our parent company, IDG, receives advertisement revenue for shopping activity generated by the links. Because the buttons are attached programmatically, they should not be interpreted as editorial endorsements.

Though Acer did a decent job with the touch features, replacing the lower deck with a touchscreen is a poor trade-off.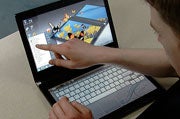 The unusual Acer Iconia is a $1,200 all-purpose laptop that's being marketed as a "touchbook" due to its dual 14" touchscreen displays. The touchscreen software works surprisingly well and the laptop is easy to type on.
For comprehensive coverage of the Android ecosystem, visit Greenbot.com.