First Look: HP TouchSmart 610 Has a Shape-Shifting Design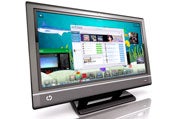 HP's TouchSmart 610 all-in-one PC features a 23-inch touchscreen display with gesture support, a Blu-ray drive, a TV tuner, and Intel's quad-core i7 CPU. It also boasts a transforming design that lets you use it like a tabletop tablet. Alex Wawro takes it for a spin.
Product mentioned in this article
(1 items)
HP TouchSmart 610 Quad

Outstanding general performance and an excellent touchscreen help the TouchSmart 610 Quad stand out from the all-in-one crowd.
For comprehensive coverage of the Android ecosystem, visit Greenbot.com.