How To Make Holiday Nativity Scenes With Your Printer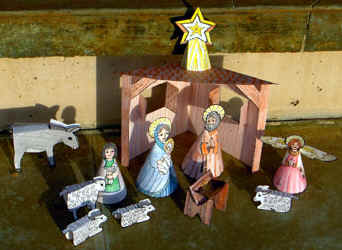 As Christmas approaches, many people decorate their homes with the famous manger scene; and lots of places on the Web will show you how to make your own.
Paper Model Kiosk has a couple of simple-to-assemble Nativity scenes--they're closer to dioramas than to papercraft, but very pretty nonetheless
If you have children who like to color, you can also try the 3D papercraft Nativity scene from ScrapbookScrapbook.com.
Nativity scenes not your thing? Try making a papercraft Christmas tree instead--here's a cute one thateven includes tiny ornaments (the instructions are in Japanese, but the images are reasonably self-explanatory). Canon also has a couple of Christmas tree projects, including this basic one and this more advanced tree with cutouts for hanging ornaments.
Other fun holiday printer projects include turning photos into calendars, gifts, and greeting cards. And in past years, we've described in detail how to print your own greeting cards, how to make custom photo gifts, and how to design calendars.

Amazon Shop buttons are programmatically attached to all reviews, regardless of products' final review scores. Our parent company, IDG, receives advertisement revenue for shopping activity generated by the links. Because the buttons are attached programmatically, they should not be interpreted as editorial endorsements.