Samsung Droid Charge: Verizon 4G Phone is Fast, Frustrating
At a Glance
The LTE speeds dazzle, the AMOLED display shines, and you get a free mobile hotspot at least for a little while. What's not to like? Well, the battery life disappoints, but that may not be enough to spoil...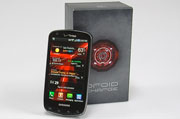 The Samsung Droid Charge for Verizon offers an impressive AMOLED display and a fat LTE pipe for downloading hefty media quickly. If you can deal with its iffy battery life, cluttered user interface, and clunky physical design, this might be a good phone for you.
For comprehensive coverage of the Android ecosystem, visit Greenbot.com.
At a Glance
The LTE speeds dazzle, the AMOLED display shines, and you get a free mobile hotspot at least for a little while. What's not to like? Well, the battery life disappoints, but that may not be enough to spoil the fun. Read the full review

Pros

The Super AMOLED screen is impressive
4G LTE service is very fast

Cons

Phone is large, lacking in distinctive design
Battery wears out too soon