Samsung Droid Charge: Verizon 4G Phone is Fast, Frustrating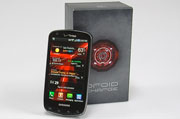 The Samsung Droid Charge for Verizon offers an impressive AMOLED display and a fat LTE pipe for downloading hefty media quickly. If you can deal with its iffy battery life, cluttered user interface, and clunky physical design, this might be a good phone for you.
For comprehensive coverage of the Android ecosystem, visit Greenbot.com.