Samsung Droid Charge: Verizon 4G Phone is Fast, Frustrating
Samsung Charge

$150.00

Amazon Shop buttons are programmatically attached to all reviews, regardless of products' final review scores. Our parent company, IDG, receives advertisement revenue for shopping activity generated by the links. Because the buttons are attached programmatically, they should not be interpreted as editorial endorsements.

The LTE speeds dazzle, the AMOLED display shines, and you get a free mobile hotspot at least for a little while. What's not to like? Well, the battery life disappoints, but that may not be enough to spoil...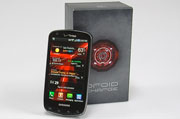 The Samsung Droid Charge for Verizon offers an impressive AMOLED display and a fat LTE pipe for downloading hefty media quickly. If you can deal with its iffy battery life, cluttered user interface, and clunky physical design, this might be a good phone for you.
For comprehensive coverage of the Android ecosystem, visit Greenbot.com.