Top 7 Ultrathin Windows Laptops: Alternatives to Apple's MacBook Air
Many people consider the Apple MacBook Air to be the gold standard in ultrathin laptops, but Windows users don't have to jump to the Mac platform to get the same slim and sleek design.
The seven lightweight laptops here are each no more than about an inch thick, and in some cases they cost several hundred dollars less than the groundbreaking Apple laptop.
Here's how these ultrathin laptops each stack up to Apple's popular 13.3-inch ultraportable (discussed in the order of their announcement).
Samsung Series 9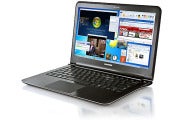 Advantages: The 13.3-inch Samsung Series 9 comes with twice the memory (4GB versus 2GB) of the MacBook Air. It also has a backlit keyboard, faster USB 3.0 ports, and, most important, the latest Intel processors (two generations newer than the 2010 MacBook Air). Samsung's high-style laptop is a touch thinner and lighter than the MacBook Air, too, though not noticeably so.
Disadvantages: Retailing for $1599, the Series 9 doesn't have any price advantage over the high-end MacBook Air model and costs $300 more than the lower-end Air version. The MacBook Air also has a higher display resolution (1440 by 900 pixels) than that of the Series 9 (1366 by 768 pixels).
Note: The Samsung Series 9 also comes in an 11.6-inch version to rival Apple's similar, smaller MacBook Air.
Samsung Series 9 review | Series 9/MacBook Air comparison
Toshiba Portege R830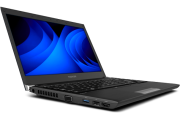 Advantages: Also boasting a 13.3-inch display, the Toshiba Portege R830 (starting at $890) weighs only 0.3 pound more than the MacBook Air, yet can save you as much as $700. Like the Samsung Series 9, the Portege R830 comes with 4GB of RAM (twice the memory of the MacBook Air) and USB 3.0 ports. Its rated battery life is 2 hours longer than that of the MacBook Air and the Series 9. Perhaps most distinctive for a laptop of this size and weight: The Portege R830 has an integrated DVD drive.
Disadvantages: Although the Portege R830 has a larger-capacity drive (640GB), it's a slower 5400-rpm SATA hard drive rather than the premium Flash storage type found in the MacBook Air. The Portege R830's display resolution (1366 by 788 pixels) is lower than the MacBook Air's (1440 by 900 pixels), too. Finally--and most noticeably--while the MacBook Air is known for its supersleek profile, the Portege R830 has a boxier build and is about a third of an inch thicker (1.05 inches at its thickest).
Note: The Toshiba Portege R830 comes in both a consumer model (detailed above) and a business-oriented version with higher-end configuration options (solid-state drive, Core i7 processor, and the like) starting at $1049.
Toshiba Portege R830/Apple MacBook Air comparison
MSI X-Slim X370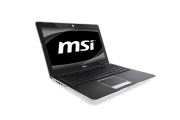 Advantages: If you don't mind a bit more thickness (0.2 inch) and a touch more weight (0.2 pound) to your ultraslim laptop, you can save between $700 and $1000 by buying the $599 MSI X-Slim X370 instead of the MacBook Air. This 13.4-inch machine should have a longer battery life than the MacBook Air (up to 3 hours more than the Air's 7 hours), thanks to its new AMD Fusion processor. It comes with 4GB of memory instead of 2GB, and it has an HDMI port for connecting to your TV.
Disadvantages: Though undoubtedly thin, in terms of design the X-Slim X370 isn't as cutting-edge as the MacBook Air and its aluminum unibody construction. And although the 500GB hard drive available for the X370 at retail has a faster (7200-rpm) speed than MSI previously announced, it's not the high-performing Flash storage that the MacBook Air offers. Finally, Apple has better brand recognition than MSI, which may or may not matter to you.
MSI X-Slim X370/MacBook Air comparison
Lenovo ThinkPad X1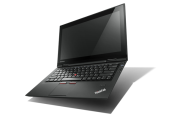 Advantages: The ThinkPad X1 may have particular appeal for anyone who wants an ultrathin laptop for work, as the ThinkPad line has traditionally been associated with business performance. Besides running the latest Intel processor, the X1 boasts a backlit keyboard, a 160GB solid-state drive, and a rapid-charging battery that may last up to 10 hours with an additional battery slice.
Disadvantages: Although the ThinkPad X1 isn't noticeably thicker than the MacBook Air, it may weigh almost a pound more depending on the battery. Like the other ultrathin laptops in this roundup, the 1366-by-768-pixel ThinkPad X1 can't match the 1440-by-900-pixel MacBook Air in display resolution. Though pricing is still tentative, the ThinkPad X1 may debut at a higher price than the Air.
Note: As of this writing, the ThinkPad X1 hasn't been officially announced, but Lenovo has confirmed that it will be coming soon. The specs discussed here are from the presale version that popped up in Europe.
Lenovo ThinkPad X1/MacBook Air comparison
LG P430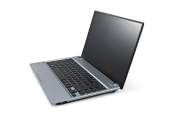 Advantages: The LG P430 boasts a larger, 14-inch display in the same 13.3-inch form factor, which it accomplishes by using a narrower display bezel. The P430 also has a memory capacity of up to 8GB (twice that of the MacBook Air), a built-in optical drive, and the option of discrete Nvidia graphics with 1GB of video memory (as opposed to the MacBook Air's 256MB).
Disadvantages: Though the P430's 1366-by-768-pixel display is larger, Apple's MacBook Air wins in terms of higher resolution (1440 by 900 pixels). At 4.28 pounds, the LG P430 is also more than a pound heavier than the MacBook Air.
Note: The P430, along with a thin 15.6-inch sibling, the P530 (see the next page), is expected to be available in May and June 2011, starting in markets outside North America.
LG P430/MacBook Air comparison
Next: The LG P530, the mystery Dell competitor, and the specs that matter
At a Glance
Apple MacBook Air (Late 2010) family