Dell XPS 15z Preview: A MacBook Pro Rival For Far Less Money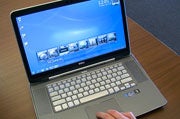 Jason Cross takes a look at the thinnest 15.6-inch laptop ever, the Dell XPS 15z. At 0.97 inches thick and 5.5 lbs, this system gives the MacBook Pro a run for the money. The base configuration retails at $1000, which $800 less than the price of the cheapest 15-inch MacBook Pro.
Product mentioned in this article
(1 items)
Dell XPS 15z Notebook

If every Dell laptop were this good in both build and design, the company's reputation among consumers would be completely restored.