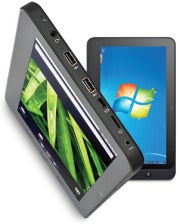 More bad news for Microsoft in tablets --- Toshiba has apparently pulled the plug on its plans for a Windows 7-based tablet. Given that it was already available for pre-order, and slated to be shipped in June, this is very bad news for Microsoft. At this rate, will Windows ever become a significant presence in the tablet market?
DigiTimes reports that Toshiba had abandoned its plans for developing Windows 7-based tablets, and says that a Windows 7-based tablet has "already disappeared from Toshiba's latest product roadmap, according to sources from the PC industry."
DigiTimes also reports that Toshiba was "set to launch its Android 3.0-based tablet PC in June, featuring Nvidia's Tegra 2 processor and a 10.1-inch panel, and the device is already available for pre-order in the US market." In addition, Toshiba had touted the tablet at the CES show earlier this year.
Most likely, that means Toshiba canceled the product because pre-orders were poor and the sales force couldn't sell it.
Windows 7 isn't suited for tablets, so this should be no surprise. Unlike iOS and Android (especially 3.0, Honeycomb) Windows 7 wasn't built for tablets. It requires too much hardware overhead, wasn't built for touch interaction, and its interface isn't tablet-friendly.
Windows 8, when it arrives in either 2012 or 2013 will be built for tablets. But by that time, the market may already be sewn up by iOS and Android.
This story, "Toshiba Pulls the Plug on Windows 7 Tablet -- Will Windows Tablets Ever Work?" was originally published by Computerworld.