I was starting to get worried—enough to wonder whether it would cause any damage to a 2014 Chrysler 300 SRT if it ran completely out of gas. I'd heard the horror stories. Modern engines use fuel injection and don't let you fill up with a gas can. A guy named Bubba would have to tow it away. Not good.
Fortunately, I had a trick up my sleeve. In the 300 SRT's touchscreen, I punched up an app that shows the closest gas stations, along with the fuel price and distance. One station, exactly 12.2 miles away, was selling high-octane for $3.40 per gallon. What a steal!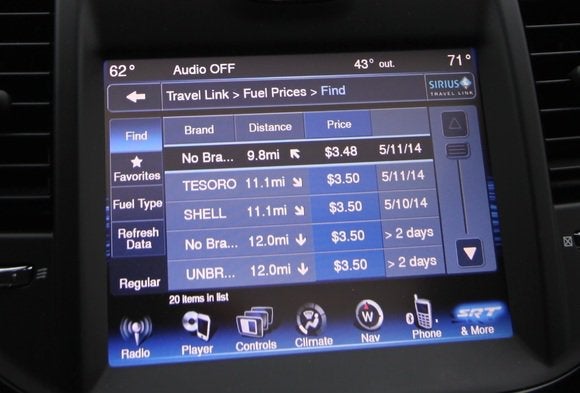 I glanced down at the DTE reading above the steering wheel. For those who drive older cars and still rely on an old-school gas gauge, DTE stands for Distance To Empty. Whew: I had about 35 miles left on the tank. I pulled up to the station with Bruce Springsteen blasting. No problem.
During an entire week of spirited driving, two things hit me. First, when driving a 300 SRT with a 6.4-liter V8, you're gonna be spending a fair amount of time at the pump. Second, it's amazingly helpful to plan out where you will be buying said gas. On a trip about an hour from my home, I noted how the prices dropped about 5 cents per gallon—time to fuel up.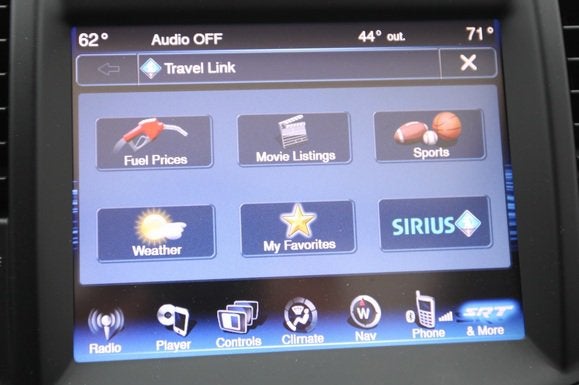 The fuel price option lets you select the fuel type, view stations in order by range or price, and even set a favorite gas station. (I like the ones that also serve nachos and cheese dip.) You can even browse by brand—you know, for all of those Tesoro fanboys out there.
Oddly, you can only set one favorite, but one nice perk is that the price for your favorite station is also listed on the main touchscreen, along with the current weather forecast. My only additional request: I want the car to beep at me when I was near a gas station that offered a lower price.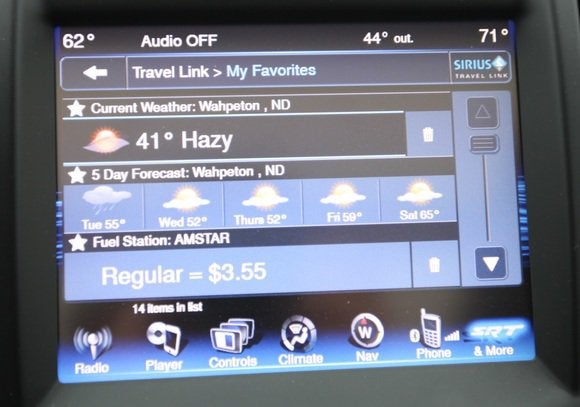 For long trips, I imagined planning out all fuel-ups along my route, which is entirely possible—you can browse stations nearby or close to a city. Surprisingly, the fuel economy is not that bad—right around 20 MPG during my week of testing.
The sporty 300 SRT costs $45,900 and includes the fuel app as part of the Sirius Travel Link service. The monthly service is free for a year, but it costs only $2 per month after that. It pays for itself when you get the cheaper gas.
This story, "It's a gas: Chrysler's 300 SRT uses Sirius Travel Link to help plan your pit stops" was originally published by TechHive.