Alienware Aurora: Flashy Looks in a Smallish Case
Alienware Aurora

The new Alienware Aurora is well-designed with a great case and a few neat features, but it's a little pricey and doesn't keep up with category leaders in our performance tests.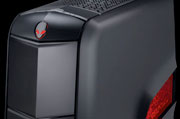 Alienware's Aurora is a desktop performance-level gaming PC that's housed in a relatively small case. Our review machine features an Intel Core i7 processor, two Radeon HD graphics cards, 4GB of RAM, and a 2-terabyte hard drive. Alex Wawro takes a look.