Printers That Do It All
You might think that pretty much any color inkjet multifunction printer would satisfy pretty much any user--after all, the point of these printers is that a single fairly compact machine can do it all: print, copy, scan, and (sometimes) fax. But just as some people favor flip-flops and others wingtips, different users want different things from an MFP. Some offices look for a top-notch scanner and precise color reproduction.
Others need to print unusually wide documents. And still others want a printer that can be displayed in public without looking like a plastic box of ugly.
Wouldn't it be great if you could test-drive a few MFPs to see which one was the best match for your needs? PCWorld set out to do just that: We identified three different kinds of users, gave them two MFP models that promised to meet their specific needs, and let them use each one for a week. Read on to find out which printers they liked better, and why--and to learn how you can find your best fit, too.For an interactive chart of our current most highly rated inkjet MFP models, see "Top 10 Inkjet Multifunction Printers."
MFPs' Infinite Variety
The models we chose for our users to audition reflect the wide variety of MFPs that are currently available--and the users were just as distinctive. To San Francisco-based Zeta Communities, a sustainable-building firm whose design and promotion needs entail a lot of copying, scanning, and printing, we assigned two small-office printers, an Epson WorkForce 840 All-in-One Printer and a Lexmark Pinnacle Pro901.
Two wide-format units that can print and scan media at sizes up to 11 by 17 inches, the Brother MFC-J6710DW and the HP Officejet 7500A Wide Format e-All-in-One, went to Steven Newton, who develops online and print content for the Oakland-based nonprofit, National Center for Science Education (NCSE).
Finally, for the 440 Brannan boutique in San Francisco's trendy South of Market district, we supplied the HP Envy100 e-All-in-One and the Lexmark Genesis. A bustling environment where people come in and go out constantly, 440 Brannan needs an MFP that can juggle a multitude of tasks and look good while doing it.
The Best Features Now
What should you look for in one of today's multifunction printers? Here's a rundown of features worth considering.
All inkjet MFPs combine a printer base and a scanner--usually one that is designed for letter/A4-size paper, though you can find units with legal-size or even wide-format scanning platens.
One model--Lexmark's Gen­esis--takes this feature a huge step beyond the ordinary: Its Flash Scan feature, rather than employing a de­­vice that moves across the page to capture image data, uses a built-in 10-megapixel digital camera to take a picture of whatever you want to scan. That novel approach gives the Genesis a huge ad­­vantage in speed. Choosing color imaging or a higher dpi (dots per inch) setting causes traditional scanners to slow down, sometimes to a crawl. The Genesis scans nearly instantaneously, regardless of the complexity of the data. This new approach to image capture elevates the Genesis above its ordinary-printer foundation; other advantages include its large touchscreen and Lexmark's growing collection of proprietary SmartSolutions automated tasks and Web applications.
You can find MFPs in every price range that offer wireless connectivity. Assuming that you already have a wireless network installed, adding a wireless printer to it can make sharing among multiple home or small-office users surprisingly easy.
On some machines, however, certain features are not available via wireless; for instance, Epson's WorkForce 840 scans to a Mac via USB only, not wirelessly. Also, wireless printer performance is subject to the same factors that challenge all wireless networks: physical obstacles, distance between the PC and the printer, and other Wi-Fi traffic.
Printer touchscreens are getting bigger, more common, and more sophisticated. Though some people prefer the positive feedback of pressing a real button, touchscreens feel more natural to most people, and they can reduce button overload by showing only the controls that you need at a particular time. Of the six models used in our real-world tests, only the Brother MFC-J6710DW lacks a touchscreen. Epson's WorkForce 840 employs a hybrid screen, in which the user controls a regular 3.5-inch LCD by using backlit, context-aware "buttons" that appear on the surrounding touch-sensitive panel.
Web Apps Expand Reach
The Web is expanding printers' horizons with new applications and connectivity. Though cloud-based printing is still in its infancy (HP and Lexmark are the only printer vendors that currently offer cloud-based apps), it's getting more interesting all the time.
HP's Web-based apps typically emphasize home and family use, focusing on kids' activities such as coloring pages and paper dolls, as well as coupons, maps, and tickets that you can print through free, downloadable apps from HP's website. An MSNBC app lets you choose among news categories ranging from business to entertainment to sports, and print a digest of current stories.
Lexmark's Web-based apps are part of its SmartSolutions platform of customizable apps, which allow you to automate tasks that you perform regularly, such as scanning or faxing a specific form to a specific destination.
Unlike HP's apps, not all of the SmartSolutions options require you to print something out. For instance, you can set up an RSS, weather, or news feed to appear on the LCD; the news feeds supply headlines from the BBC, ESPN, or MSNBC. You can also monitor your Twitter feed or your Facebook page, and print photos posted to your Facebook wall.
Cloud Printing's Promise
Cloud-based printing aspires to work someday with pretty much every printer out there. Who wouldn't want to be able to print from their cell phone or tablet without driver or connectivity hassles?
Hewlett-Packard's ePrint is the first cloud-printing service to launch, though you'll need an ePrint-enabled HP printer to enjoy it. Newer models of HP printers that have ePrint ca­­pability are tied to a specific e-mail ad­­dress to which you can send e-mail messages or jobs to be printed. While traveling, you may find ePrint-enabled public printing locations in hotels, airports, and copying shops. In our initial tests of HP ePrint, however, it fell a bit short on reliability. When we sent jobs via ePrint from various phones, e-mail services, and computers, only about 9 out of 10 of them actually printed. The corporate version, called ePrint Enterprise, is supposed to be a more ironclad program, but we haven't tested it.
Google's Cloud Print was announced about year ago, but it remains in beta at this writing. The service aims to let you send jobs remotely to any printer linked to a Web-connected PC. We tested Google Cloud Print earlier this year; though it's still very limited, its goal of ad­­mitting even older printers to the cloud-printing club bodes well for future adoption.
Paper Savers and Time Savers
Automatic duplexing (two-sided printing) halves paper usage, saving both trees and money, but it does slow printing speed somewhat, because the printer has to turn the paper over to print on its other side. In addition, the printer has to be slightly larger to accommodate the duplexing mechanism. Assisted manual duplexing--where on-screen or control-panel prompts show you how to refeed the pages so you can print on the back--is better than nothing, but it's still a hassle, especially for longer documents.
You can't miss an MFP that's equipped with an automatic document feeder. This awkward-looking mechanism sticks out the top of the device (or sometimes folds neatly into the top when it's not in use). It makes all the difference when you need to scan or copy multipage documents, however; some models even scan in duplex. Most ADFs have a dedicated, second scanning head (usually a slim bar located to one side of the main scanner platen) for scanning legal-size documents via the ADF.
With regard to faxing, if you regularly send faxes and will continue to do so, buy a multifunction printer with fax capabilities. If you don't send faxes now but wonder whether you might need to someday for some reason, you needn't worry. Scanning documents to PDF and then e-mailing them has replaced a great deal of faxing; it's faster and more secure than faxing, and it saves paper.
Remember the Ink Costs
Ink costs are as important a factor to consider in choosing an MFP as the price of the machine itself. The majority of the six MFPs that we used for real-world testing have reasonable ink costs. The only models that require a little caution here are the HP Envy100, whose standard and high-yield inks are ex­­pensive across the board; and the two Lexmarks--the Genesis and the Pinnacle Pro901--whose standard-size cartridges are exorbitant, but whose high-yield options are reasonable. The Pinnacle Pro901, especially, is notable for its high-yield, penny-per-page black (a truly budget-friendly cost).
Since MFPs can't multitask (at the inkjet level, anyway), a printer that is constantly churning out jobs can't stop to make a copy or scan to PDF. So if you do a lot of any one thing, even printing, consider buying a dedicated machine for that particular function.
On the other hand, most home, student, and small-­office users who want a printer that can branch out and do a few other things, too, can probably find more than one very serviceable inkjet multifunction printer that meets their needs.
A Busy Small Office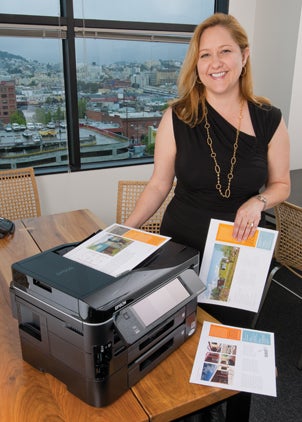 Sarah SoRelle is a marketing associate for Zeta Communities, a San Francisco firm that develops multifamily housing and mixed-use structures. In her work, scanning and color printing are very important.
The MFPs installed here had to work with PCs running Windows 7 Ultimate, Windows XP Pro, Windows 7 Pro, and Windows Server 2008. Tierra Technology, Zeta's IT service provider, set up both MFPs and found that the Lexmark Pinnacle Pro901 was the easier unit to install. The CD-based process was fast, it let Tierra's technicians check Lexmark's website for driver up­­dates, and it provided clear descriptions of extra features.
The CD-based installation process for the Epson WorkForce 840 seemed slower than the one for the Lexmark, and a service pack update for Windows 7 64-bit conflicted with the Ep­­son CD installer, so Tierra's technician used Windows 7's Found New Hardware function to set up the MFP. (A fix is available from Epson's website or in the CDs that ship with newer units.)
Once they were installed, SoRelle liked both of them, citing their speed, wireless connectivity, and easy-to-use touchscreens as highlights. But she preferred the Epson MFP because it did a better job of matching the Pantone colors used by designers and printers that work with Zeta.
Scientific Media Center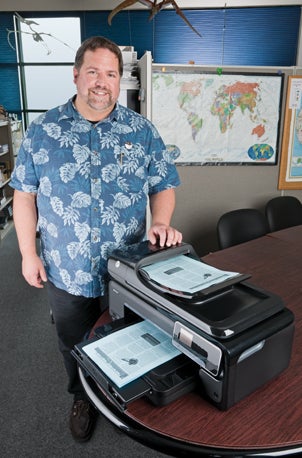 As Programs and Policy Director for the National Center for Science Education, Steven Newton develops a variety of print and online materials.
Newton needs printing hardware that can reproduce graphics reliably, rapidly, and faithfully. He put both of his test-unit MFPs through an exhaustive series of color, texture, and font challenges. The HP Officejet 7500A Wide Format e-All-in-One prevailed, producing markedly better-looking prints than the Brother MFC-J6710DW. An avid photographer, Newton liked the HP's photo quality enough to make framed prints of his work from it. In contrast, the Brother's output looked washed-out and sometimes grainy.
To win Newton's approval, the HP Officejet 7500A Wide Format had to overcome a bad first impression. The MFP's installation, Newton thought, was "excessive, consuming 0.3GB, and requiring more time to install from disks than software such as Adobe Photoshop." And following installation, the Officejet 7500A sometimes took an inexplicably long time to prepare to print, though pages appeared rapidly once it got going. He resolved an issue involving a flaky wireless connection by rebooting the printer; but then the scanner stopped working. A replacement unit worked perfectly.
A Public Retail Setting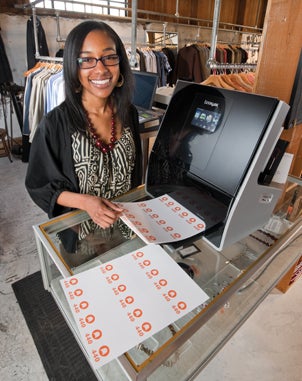 The 440 Brannan Studio/Showroom in San Francisco provides a retail venue for the wares of local clothing and accessory designers, as well as workspace for developing new products. The staff and designers use Macs; a lone PC serves as the "cash register."
In this environment, form is just as important as function. The HP Envy100 e-All-in-One and the Lexmark Genesis both enjoyed prominent placement in the boutique, and people who noticed them couldn't believe they were printers.
Store manager Zakiya Bell says that the MFPs' wireless connectivity was a revelation after the cumbersome experience of carrying the store's old printer from computer to computer as needed.
Staff and designers printed everything from price tags to designers' fall line sheets, and even 72-dpi photos from a cell phone came out looking great. The large touchscreens on both MFPs were a pleasure to view and use, though the HP Envy100's touchscreen was so sensitive that at times it interpreted a swipe as a touch, launching a Web app or other function by accident.
Bell preferred the Lexmark Genesis for its distinctive de­­sign and its convenient touchscreen. Its vertical scanner platen complicated the task of working with large-format orig­inals, but the Genesis "makes great copies and scans."