Page 3 of 3
A Busy Small Office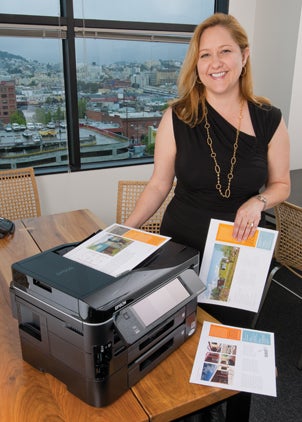 Sarah SoRelle is a marketing associate for Zeta Communities, a San Francisco firm that develops multifamily housing and mixed-use structures. In her work, scanning and color printing are very important.
The MFPs installed here had to work with PCs running Windows 7 Ultimate, Windows XP Pro, Windows 7 Pro, and Windows Server 2008. Tierra Technology, Zeta's IT service provider, set up both MFPs and found that the Lexmark Pinnacle Pro901 was the easier unit to install. The CD-based process was fast, it let Tierra's technicians check Lexmark's website for driver up­­dates, and it provided clear descriptions of extra features.
The CD-based installation process for the Epson WorkForce 840 seemed slower than the one for the Lexmark, and a service pack update for Windows 7 64-bit conflicted with the Ep­­son CD installer, so Tierra's technician used Windows 7's Found New Hardware function to set up the MFP. (A fix is available from Epson's website or in the CDs that ship with newer units.)
Once they were installed, SoRelle liked both of them, citing their speed, wireless connectivity, and easy-to-use touchscreens as highlights. But she preferred the Epson MFP because it did a better job of matching the Pantone colors used by designers and printers that work with Zeta.
Scientific Media Center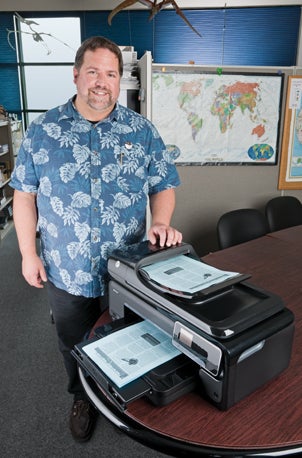 As Programs and Policy Director for the National Center for Science Education, Steven Newton develops a variety of print and online materials.
Newton needs printing hardware that can reproduce graphics reliably, rapidly, and faithfully. He put both of his test-unit MFPs through an exhaustive series of color, texture, and font challenges. The HP Officejet 7500A Wide Format e-All-in-One prevailed, producing markedly better-looking prints than the Brother MFC-J6710DW. An avid photographer, Newton liked the HP's photo quality enough to make framed prints of his work from it. In contrast, the Brother's output looked washed-out and sometimes grainy.
To win Newton's approval, the HP Officejet 7500A Wide Format had to overcome a bad first impression. The MFP's installation, Newton thought, was "excessive, consuming 0.3GB, and requiring more time to install from disks than software such as Adobe Photoshop." And following installation, the Officejet 7500A sometimes took an inexplicably long time to prepare to print, though pages appeared rapidly once it got going. He resolved an issue involving a flaky wireless connection by rebooting the printer; but then the scanner stopped working. A replacement unit worked perfectly.
A Public Retail Setting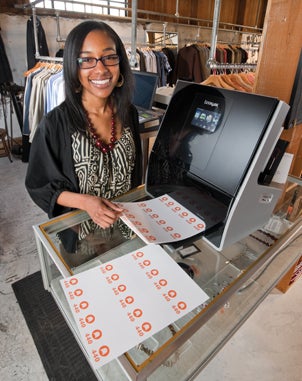 The 440 Brannan Studio/Showroom in San Francisco provides a retail venue for the wares of local clothing and accessory designers, as well as workspace for developing new products. The staff and designers use Macs; a lone PC serves as the "cash register."
In this environment, form is just as important as function. The HP Envy100 e-All-in-One and the Lexmark Genesis both enjoyed prominent placement in the boutique, and people who noticed them couldn't believe they were printers.
Store manager Zakiya Bell says that the MFPs' wireless connectivity was a revelation after the cumbersome experience of carrying the store's old printer from computer to computer as needed.
Staff and designers printed everything from price tags to designers' fall line sheets, and even 72-dpi photos from a cell phone came out looking great. The large touchscreens on both MFPs were a pleasure to view and use, though the HP Envy100's touchscreen was so sensitive that at times it interpreted a swipe as a touch, launching a Web app or other function by accident.
Bell preferred the Lexmark Genesis for its distinctive de­­sign and its convenient touchscreen. Its vertical scanner platen complicated the task of working with large-format orig­inals, but the Genesis "makes great copies and scans."
Shop Tech Products at Amazon