Skype Expected on iPad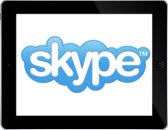 Video of the new Skype for iPad app has leaked online, as reported by TUAW.
TUAW spoke to Skype VP of Consumer and Product Design Rick Osterloh about the new app. Osterloh expects the iPad Skype app to have similar success to the iPhone version, which he said had a "user base that doubled in just a month" following the launch.
Osterloh claims that some features of the iPhone version haven't made the cut, including: file sharing. However, every other feature should be there -- including video chat features that take advantage of the iPad's new video camera.
The iPad app is expected to launch June 28, although this date wasn't confirmed.
For comprehensive coverage of the Android ecosystem, visit Greenbot.com.

Amazon Shop buttons are programmatically attached to all reviews, regardless of products' final review scores. Our parent company, IDG, receives advertisement revenue for shopping activity generated by the links. Because the buttons are attached programmatically, they should not be interpreted as editorial endorsements.