CEA LineShows Offer a Sneak Peek at Next-Gen Gadgets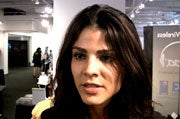 At multiple consumer electronics shows in New York recently, gadget makers were showing off the latest in mobile, 3D and gaming.

Amazon Shop buttons are programmatically attached to all reviews, regardless of products' final review scores. Our parent company, IDG, receives advertisement revenue for shopping activity generated by the links. Because the buttons are attached programmatically, they should not be interpreted as editorial endorsements.