Hot Gadgets: Summer Guide 2011
For this year's roundup of cool summer tech gear, I dived into a local pool to snap photos, played a round of golf and grilled up some tasty steaks. Yes, I have a tough job.
But it was all for a good cause: finding the best equipment for gear-heads to enjoy the great outdoors. This well-tested summer gear is perfect for adventurous techies who like to run, swim, camp, hike, play golf and more.
For summer excursions that involve lots of water and mud, an iPhone -- or any typical smartphone -- is just not going to survive. The Casio G'zOne Commando ($199 with two-year Verizon contract) is a rugged Android-powered smartphone that meets the U.S. Department of Defense MIL-STD 810G spec for short drops (about 5 feet), water immersions, contact with mud, exposure to scorching sun and other environmental hazards. (The phone is not meant for swimming, though, and it won't stand up to extreme weight, pressure or impact, such as what it would endure if it were run over by a car.)
The black and red hard plastic outer shell is built for serious outdoor adventures. I sprayed water on the phone, covered it in dirt and dropped it onto an asphalt driveway; the Commando kept on working without a glitch.
But the real highlights are the included apps -- there's one that shows a compass that rotated accurately as I moved, a temperature indicator and one for checking ocean tide conditions. There's even one that counts your steps on a hike.
The G'zOne Commando is not just rugged -- it has an unusually loud speaker for playing music at a campsite, includes a 5-megapixel camera and runs all the typical Android apps. (Angry Birds, anyone?)
A remarkably innovative golf aid, the $89 SensoGlove is aimed at training you to hold the club with a light grip. (Golf experts say a tight grip is the primary cause of an erratic swing on the course.) Sensors in the fingers measure your grip, and an LCD screen alerts you (both visually and audibly) about your grip pressure. You can configure the sensors to warn you when you exceed a threshold, such as a tightness level over 10.
In my tests during a practice session and a complete 18-round course, the SensoGlove actually improved my accuracy for both short chips and long drives. The large LCD screen was readable in direct sunlight.
The glove is made of cabretta leather and matches the styling of other golf gloves. It's available for right- or left-handed players, with versions for men and women in a range of sizes.
The trendy-looking Nike+ SportWatch GPS ($199), which flaunts neon colors that match well with Nike clothes and shoes, connects to a small wireless receiver (included) that you place in the undersole of your Nike shoes. You can track your exact run route, distance and elevation using the watch's built-in GPS receiver; the 2.33-oz. watch also records your speed, monitors your heart rate and estimates the calories you've burned.
I tested the SportWatch with a flashy pair of Nike LunarGlide+ 2 ($82) running shoes. During several jogs, the sensor in the shoe communicated perfectly with the watch, which felt light and snug on my wrist.
The wristband has a USB connector built in. After my runs, I connected it to my PC and uploaded my route, total distance and pace along with other variables to the NikeRunning.com website. One of the coolest features of the site is a "heat map" that shows other runners' favorite routes. I viewed some of the other runs in my area and even broadcast my recent runs on Facebook.
You can also set the SportWatch to ping you with a run reminder if you haven't run in several days, and if you're running a familiar route, it can show you the fastest times both you and other runners have gotten on the route.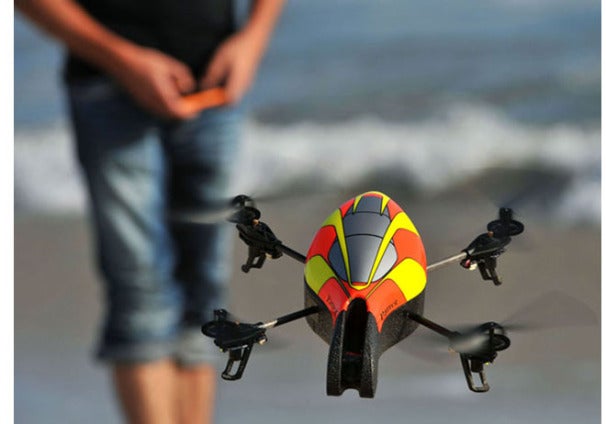 The Parrot AR.Drone ($300) is a flying "quadcopter" you control with your smartphone. When it was first released last summer, it worked only with the iPhone, iPad or iPod Touch, but now Android, Symbian and Bada users can play as well.
Four spinning rotors provide a unique flying experience -- like a real helicopter, the drone can hover in mid-air or fly forward. The device sends your smartphone streaming video captured by its front-mounted camera over an ad-hoc Wi-Fi network; you control the copter using an augmented reality app with soft keys for up and down, forward and back. There's a second high-res surveillance camera onboard for taking video and snapping photos.
In my tests, it took some practice to control the AR.Drone -- which is why every drone comes with a practice shell that protects the plastic parts; it's also good for indoor flying anytime. Once you've mastered the drone, it's amazing to see how high it can go -- up to 160 feet. I recommend flying in a large open area, because a gust of wind can carry the drone into a tree. Fortunately, Parrot offers spare parts at reasonable prices (not to mention helpful repair videos) to help you get flying again after a crash.
A caveat: The rechargeable battery lasted for only about 20 minutes in my tests. However, it charged quickly -- after about 45 minutes I was able to send the drone on another flight. Typical full charge time is more like 90 minutes.
Several multiplayer game apps let you fly your drone in the physical world as you compete in virtual ones: AR.Race for racing and AR.FlyingAce for conducting dogfights are both free, while the AR.Pursuit hunt/escape game is $2.99.
For those who carry around an Apple iPad on your summer adventures, the last thing you need is a scuff mark on the outer shell -- or worse damage. The $60 G-Form iPad Extreme Sleeve uses a proprietary plastic-based material in a cool space-age design to protect your tablet.
In a drop, the material instantly stiffens for extra protection. (See G-Form's video demonstration of how little effect a dropped bowling ball has on an iPad in the sleeve.) The sleeve is also water-resistant, although it is not waterproof for extensive spraying or rain.
The Extreme Sleeve fits both the original iPad and the iPad 2. In my tests, the sleeve kept my first-generation iPad pristine, but inserting and removing the iPad proved to be a bit challenging -- the sleeve is meant for protection, not mobile ease. However, G-Form says it will soon be shipping the iPad Extreme Sleeve 2 ($70), which offers more edge protection and a roomier interior, so it might solve the problem I encountered. The Extreme Sleeve 2 is currently available for pre-order with an estimated ship date of June 27.

Some folks claim that barbecuing is an art, but geeks can tell you it's all about science. Expert grillers know that every kind of meat (chicken, pork chops, steaks, hamburgers and so on) has to be cooked to a specific temperature before it's perfectly done.
Brookstone's Always Perfect Chef's Fork ($30) has a backlit display that shows current cook temperature and tells you if the meat is rare, medium or well done based on USDA-approved guidelines. The fork worked well for several tests, showing the temp almost instantly when I inserted its tines into the meat on the grill and reporting an accurate "doneness" -- my test steak, for example, really was cooked to medium.
The fork uses four standard AAA batteries (not included) and shuts itself off after two minutes of inactivity.
Available in black or bright purple models, the Pentax Optio WG-1 ($350) is a rugged outdoor camera that can withstand 5-foot drops, 220 pounds of weight and underwater submersion to 33 feet. I found that the 14-megapixel camera, which measures 4.5 by 2.3 by 1.1 in. and weighs 5 oz., took surprisingly clear pictures for a pocket camera.
The Optio WG-1 also offers a bevy of picture-taking options. For example, you can adjust colors for underwater photos; shoot optimally for candlelight, fireworks or other tricky lighting situations; and record 720p high-def video. My favorite feature was the smile detector. The camera waits to see a smile and then shows an indicator that you can snap the photo.
A higher-end version, the Optio WG-1 GPS ($400), adds GPS and geo-tagging functionality; it's available in gray or neon green.
Éton's American Red Cross Axis emergency radio ($70) is quite the multifunction gadget, handy whether you're camping in the wilderness or at home when a thunderstorm or other disaster cuts off your electricity.
This 24.3-oz. device uses an NiMH battery that recharges when you turn the hand crank. One minute of cranking provides 15 minutes of power. (You can also use three AAA batteries or regular 5V wall charging.) In my tests, it only took a few spins to get the radio running full blast.
The Axis has a "direct power" USB port for charging your phone, smartphone, MP3 player or other low-power device. With many other hand-cranked radios, you have to turn the crank to charge a USB gadget.
The radio supports FM, AM and seven national weather service stations to keep you informed in an emergency. The Axis also has a digital clock with alarm, an LED flashlight with a flashing red warning beacon and a pull-out radio antenna.
Summer means lots of time spent outdoors -- and that means a nearly constant stream of dirt, mud, sand and more dirt tracked inside. The Scooba floor-washing robot is perfect for the inevitable cleanup chores on hard floor surfaces such as linoleum, tile, slate and sealed hardwood.
It works in several stages to prep the room with a cleaner, scrub the grime, vacuum up the suds and glide over the area like a squeegee. The bot uses artificial intelligence to watch out for ridges, drop-offs and tight corners.
The latest version, the $300 Scooba 230, is iRobot's smallest model yet, weighing 3 lbs. and measuring about 6.5 in. across. It's meant for smaller rooms with tight spaces, such as a bathroom or small kitchen, although you can use the included room dividers to cordon off a larger area. Unlike its larger brethren, the Scooba 230 does not vacuum the floor before cleaning, so you'll need to sweep first.
In my tests, the Scooba worked as promised, cleaning a laundry room of about 150 square feet in approximately 40 minutes while I relaxed. The robot was fun to watch and worked autonomously, but the final results were also impressive. Because of the final squeegee pass, the floor shone brighter than it would after a typical mop washing.
Note that the battery lasts for only one duty cycle of about 40 minutes before needing a recharge, which takes 8 hours, so it's really a one-room-at-a-time prospect. On the plus side, the Scooba 230's diminutive size, light weight and flip-up carrying arm make it easy to transport to the beach house or wherever your summer takes you.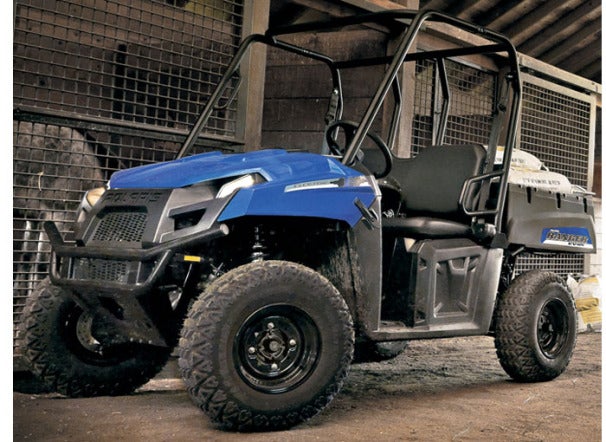 In our summer gear guides, we like to include one "gadget" that's a bit, shall we say, over the top. Here's this year's entry.
Whether you're going off-roading for fun or hauling stuff around the farm, a powerful utility-terrain vehicle (UTV) is essential machinery. But wouldn't it be nice to have a UTV that doesn't guzzle gas? That's the main technical achievement of the $10,999 Polaris Ranger EV, the first UTV that runs entirely on electricity.
Powered by two massive batteries located just behind the driver's seat, the 1,700-pound Ranger EV measures 108 in. long and has a beefy, ready-to-sling-some-mud look with massive 25-in. tires and a thick roll bar. The 30-horsepower engine has a 71 ft.-lb. torque rating, which makes the Ranger sound underpowered (most all-terrain vehicles are rated higher), but in reality it had plenty of punch. In my test demo, the UTV accelerated quickly, similar to the Chevy Volt and Nissan Leaf electric cars.
The Ranger EV operates in one-wheel drive mode (to go easy on your lawn), rear-wheel mode and 4-by-4 mode. It drove surprisingly smoothly, without too many jolts on rocky terrain. Aided by a long 72-in. wheelbase that's designed to keep it from flipping easily, the Ranger's steering was also smooth, avoiding that typical ATV feeling of precarious turning.
The batteries last for about 50 miles on the low-speed setting; ranges for the medium and high speeds depend on the terrain and gradient of the road. (Top speed is about 25 mph.) There's an indicator for battery life. It takes about 8 hours to charge the Ranger EV on a 110-volt connection; a quick-charge 220-volt add-on kit, which costs $500 extra, reduces total charge time to about 5 hours.
Want more? See last year's summer gadget guide (most of the products are still available).
John Brandon is a former IT manager at a Fortune 100 company who now writes about technology. He's written more than 2,500 articles in the past 10 years. Follow his tweets at @jmbrandonbb.