HP TouchPad Tablet Isn't Ready for Prime Time
At a Glance
The first WebOS tablet gets some things right, but stumbles more than it succeeds.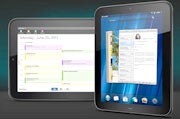 While HP's WebOS has some elegant features, the TouchPad lacks great photo- and text-rendering, has an average Web-browsing experience, and doesn't let you download directly to the device.
Despite outstanding audio, the tablet needs some refinement. PCWorld gave the TouchPad 2.5 stars in our review
For comprehensive coverage of the Android ecosystem, visit Greenbot.com.
At a Glance
The first WebOS tablet gets some things right, but stumbles more than it succeeds. Read the full review

Pros

Terrific-sounding audio
WebOS has a slick, tablet-friendly design

Cons

Slow performance
Limited functionality
Poor app selection