Page 2 of 2
3. Unity Interface. I realize this is sort of a work in progress and that the sentiment among Linux diehards seems fairly mixed at this point. I like bells and whistles, though, so the Unity interface is right up my alley. I like being able to snap windows to the left half or right half of the screen, or maximize by dragging a window to the top of the screen (although you don't have to use Unity to get that functionality).
The functionality of the Unity bar is very similar to what I am used to in Windows 7, so it felt comfortable. Unity lets you easily view and switch between multiple running instances of a given application, and the icons on the Unity bar provide direct access to features and functions of the application to streamline productivity and work more efficiently.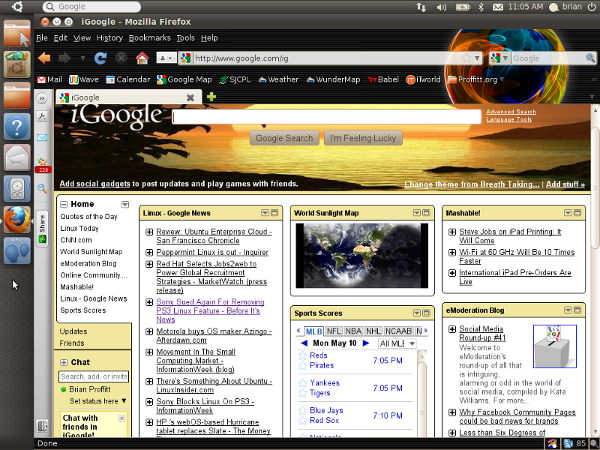 I also like the Workspace Switcher for easily viewing and switching between the available virtual desktops, and the Applications and File & Folder lenses that make it easier to find things and navigate the system.
4. Peripheral Support. This too seems sort of hit or miss based on the comments, but my experience with peripheral support was great--much better than I had anticipated. I had some hiccups early on related to configuring my Nvidia graphics card, but Ubuntu Linux easily identified and installed my printer, scanner, webcam, wireless network adapter, and everything else.
5. Linux Community. Number five on my list of things I like least about Ubuntu Linux was the Linux flamers. As I said, though, the Linux flamers are a vocal minority that give the platform a bad name. The other side of that coin is the broader Linux community which is much more welcoming and supportive. Linux seems like a fraternity of sorts, comprised of kindred souls who have been there, done that, and have a firm understanding of the fact that you can do anything in Linux--but it might take some Google searches and a command line tweak or two. They got help from the community as Linux novices, and now they want to pay it forward by sharing their wisdom, and the tips and tricks they have picked up along the way.
Overall, I have been pleasantly surprised by the whole Ubuntu Linux experience, and I found way more to like and appreciate than I did to complain about. We'll save those thoughts for the summary wrap-up tomorrow, though.
Read the last "30 Days" Series: 30 Days with Google Docs
Day 28: My Five Biggest Ubuntu Linux Complaints