Apple iPad, Day 3: Setting Up and Using Email
30 Days With the iPad: Day 3
I have always had email set up on my iPhone and iPad so I can send and receive messages while on the go. As I embark on the 30 Days With the iPad project, though, I am taking a closer look at how it is set up, and learning some new things about the iOS Mail app.
First, let's look at setting up the email in the first place. Click on the Settings app on the iPad, and tap the Mail, Contacts, and Calendars setting in the left pane. Toward the top of the right pane under Accounts, tap Add Account.
POP or IMAP
You can add a variety of email account types to the iPad: Microsoft Exchange, MobileMe, Gmail, Yahoo!, Aol, or the generic Other. I prefer using Exchange, for reasons I will cover in a minute, but generally I have used Other. Other is what you use to set up any generic POP or IMAP account. The question is which: POP or IMAP?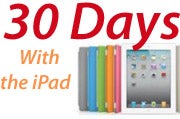 There are pros and cons to each. With POP, the messages are downloaded from the remote server to the iPad. That means that the email messages are stored locally, and you will be able to read them even if your iPad doesn't have a working connection to the Internet at the moment, but it also means that the messages are no longer on the server, so they can't be retrieved or read from other PCs or devices, and if you lose the iPad the emails go with it.
Thankfully, you can configure when or if messages are deleted from the remote server within the Advanced settings for a POP email account. The options are 'When removed from Inbox', 'Seven Days', and 'Never'--and iOS defaults to 'Never'. The downside to this set up is that every PC or device essentially has its own copy of the messages. If you delete the message on your iPad, it is still there on your PC so you are forced to maintain multiple Inboxes.
Another problem for POP accounts on an iPad is that they are limited to a maximum of 200 messages. If you are at a client site and you need critical information that you know is in your email...from last week, odds are good it won't be available any longer on the iPad.
IMAP takes a different approach. With IMAP, the device locally archives messages, but the server is the real message repository. All of your various devices are kept in sync because they are all connecting to the same data on the server. When you delete a message on your iPad, that deletion is reflected on your PC and any other devices set up for that email account.
With IMAP, because the messages are stored on the server rather than on the iPad, there is no 200 message limitation. More importantly, you can load older messages, so you would be able to get that crucial client data from the email last week as long as the message is still in your Inbox folder.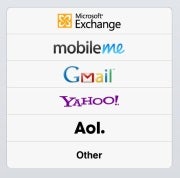 A potential downside of IMAP is that you might have the message headers, but not the complete messages, so if you try to open and read your email while the iPad isn't connected to the Internet it may not work. In my experience, though, I was able to open and read the content of my messages just fine without a Wi-Fi connection. The only issue I had was that linked content--like images and such within an email were unable to load.
Your mileage may vary, but for my purposes IMAP offers more benefits and makes managing and maintaining my email accounts simpler.
At a Glance
The iPad 2 remains a solid choice, thanks to its lower price and strong app choices. Read the full review

Pros

Slimmer design with curved edges is easier to hold
Comparatively light at 1.3 pounds

Cons

Tediously slow to charge
Relies on PC link to iTunes for updates, backups
For comprehensive coverage of the Android ecosystem, visit Greenbot.com.