Some new faces—and more than a few old familiar ones—will be coming to your R.B.I. Baseball team, thanks to the latest update to MLB.com's mobile baseball game.
Monday's update for iOS devices added current players missing from the first version of the game that was released this spring. Now Jose Abreu and Masahiro Tanaka can make the same impact on the R.B.I. Baseball versions of the White Sox and Yankees as they have on the real McCoys. Other new players added via this roster update include Grady Sizemore, Mark Reynolds, Brandon Hicks, and Emilio Bonifacio, which will surely fuel the Bonifacio fever that is currently sweeping the nation.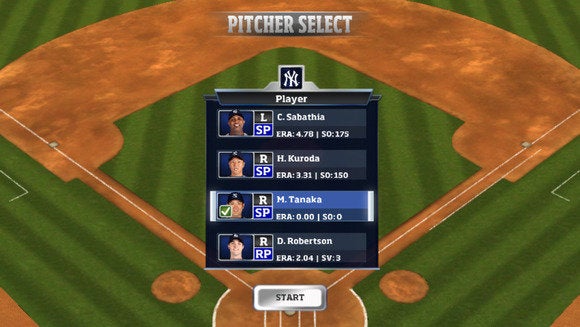 In addition to updating the rosters to reflect the make-up of current Major League teams, R.B.I. Baseball is also injecting a blast from the past to the game. Users can now buy an Alumni Pack that adds classic players from R.B.I. Baseball's late '80s heyday. Each team gets an extra pitcher and batter, though not all additions are created equal—Detroit Tigers fans are likely to feel more warmly to the introductiong of Alan Trammell and Jack Morris than Seattle Mariners will feel about the arrival of Phil Bradley and Mark Langston.
The Alumni Pack update may not be ready for prime time just yet—at least not for me. My attempt to download the packet produced a perpetually loading screen and a Buy button that did nothing when I tapped it. Look for MLB.com to issue a quick fix if that problem extends beyond just my phone. (Update: And as expected, that update is now available. Version 1.0.5 came out on June 10 and promised to fix the Alumni Pack issue.)
The updated rosters for R.B.I. Baseball apply only to the iOS version of the game; the Android release, which came out in May, remains at version 1.0. (Update: And that's changed, too. On June 10, an update came out for the Android version of R.B.I. Baseball that adds updated rosters and the Alumni Pack feature.)
It's good to see MLB.com keep things fresh with R.B.I. Baseball, which I think is a promising mobile game for those of us who prefer sports titles over shooters. That said, the game continues to suffer from some of the issues I noted when it debuted this spring—no save option or multiplayer mode and some hard-to-master controls. I'd like to see the developer tackle these problems even more than I'd welcome digital versions of Dennis Eckersley and Reggie Jackson.
Updated June 10 with news that the problem with the Alumni Pack has been fixed and that the Android version of the game now offers the same features as its iOS counterpart.
This story, "R.B.I. Baseball expands rosters with new players, old timers" was originally published by TechHive.