Nashville-based entertainment photographer Jeremy Cowart regularly works with celebrities, but he realizes not all of us have such inspiring subjects. So he developed a photo-sharing iOS app called OKDoThis that challenges iPhoneographers to push creative boundaries with calls to action.
The app's users post prompts, called "Do's," with ideas ranging from portraits of significant others to holiday dinners, and, of course, the omnipresent selfie. You can save a Do for later or shoot and submit right away. Cowart said the Do's are designed to counteract other photo-sharing apps, which encourage constant FOMO (fear of missing out).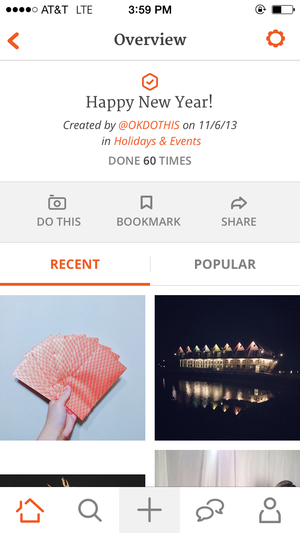 "Social networks encourage depression and comparison, and you're sad you're not living the way others are," Cowart said. "Our app is different in that it encourages you to get off the couch and go try something new. The ideas range very widely, it's a diverse set of people. We're just trying to inspire action."
Think of OKDoThis as a photo assignment manager, and you are a freelancer on the prowl.
The marketplace of ideas
It was the lack of ideas Cowart saw on other networks that inspired him to launch his own app. As a photography teacher, he noticed that his students loved shooting with their phones, but they "didn't know what to look for, didn't know what ideas to pursue," he said.
The app stealthily launched in beta last November with all the usual tools you'd expect from a photo-sharing network, such as likes (or OKs), comments, hashtags, and filters. The app and desktop versions of the network have a robust search function that lets you type in words or full sentences to find Do's. One musician created a Do that used one of his song lyrics to see what kind of art his listeners could come up with.
You can share out your Do and the photos that people submitted on other media sites, and unlike with hashtags on Twitter or Instagram, your Do always points back to you. Cowart has already grown a dedicated community of users, some of whom are professionals like him, but OKDoThis isn't aiming for the VSCO Cam crowd.
"I feel like photography is the wild West right now," Cowart said. "Every day the industry is changing. I'm not gonna be one to sit back and complain that everybody is a photographer. Photography is a way for everybody to document our lives. I want to be part of the movement supporting it. With OKDoThis, the beautiful thing is it shows how diverse our culture is. Every single person has a different take on the same idea."
Those ideas might include selfies, but hopefully they'll also encompass more creative types of photos.
This story, "OKDoThis fights fear of missing out with photo-sharing challenges" was originally published by TechHive.