World Cup fever has gripped our office, and as I type this, a half-dozen of my coworkers are glued to all the action on our lounge's big-screen TV, with open laptops in their laps so it looks like they're working. Now, if you miss a big goal because you were answering an email from your boss, that's one thing, but if your head was down because you were scrolling through an endless stream of soccer-related tweets, you lost.
Pixie is a new app for Samsung smart TVs that puts custom tickers around live TV content like sports and movies, so you can keep up with second-screen experiences like Twitter (which really does make watching sports more fun) without taking your eyes off the main event.
All the content on the only screen that matters
Pixie wants to keep things simple. Once you install it from the app store on Samsung smart TVs, you'll pick from among 10 kinds of content cards, including Instagram, Twitter, World Cup, MLB, NBA, TMZ, a custom finance ticker, ESPN, weather, and news from Reuters. When you're watching TV, you can invoke those cards for contextually relevant information, placed along the bottom and on the right side of your screen.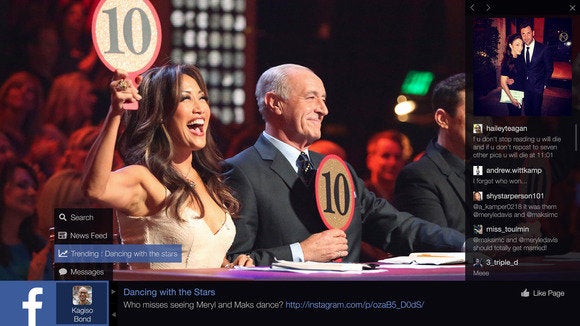 If you're looking at the World Cup cards, for example, you can see scores for other games, stats about the current game like the number of shots on goal and corner kicks, and even Instagram pictures tagged with the official World Cup hashtag. You can even pull in full news stories, but who wants to read a whole news story in a sidebar on your TV? No problem, because a really neat "Send to Phone" feature lets you enter your phone number, and the article is sent down to your phone.
Starting in July, your phone will be able to act as the remote for Pixie, too, which makes it easier to, say, reply to a tweet. You're never asked to enter text on your TV itself, because that would ruin the experience. Instead, you can enter your phone number, and you'll get a link sent to your phone, with a unique URL that auto-pairs your phone with a web-based remote control. That way there's no app to download, and your phone's accelerometer even lets the web-based remote have two views. By default you get buttons to control the Pixie app, and then if you tilt your phone, the interface changes to give you channel and volume buttons to control your actual TV.
Made expressly for Samsung
Pixie is just for Samsung TVs from 2012 and later, because it was developed in the Samsung Accelerator, a partnership between Samsung's Open Innovation Center and entrepreneurs who want to develop products that work on Samsung's platforms.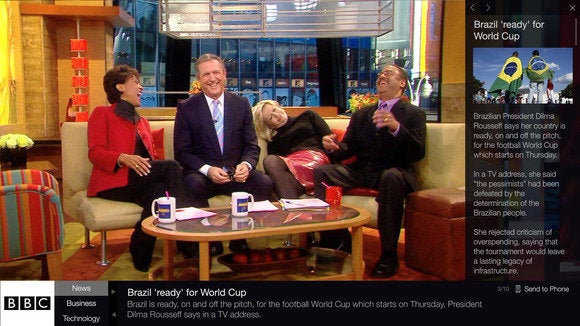 Pixie's CEO Kai Bond told TechHive that the company has plans to roll out more kinds of content cards, like fantasy football and movie reviews from Rotten Tomatoes. Instead of being distracted by a second-screen experience, Pixie wants to keep TV a lean-back experience. "You get to veg out and enjoy the game," he explained, "it's just enhanced."
Hey, if I can keep up with the jokes and smart-aleck analysis on my Twitter feed while not missing another heart-stopping shot on goal by Clint Dempsey, my World Cup experience will be quite enhanced indeed.
This story, "Pixie is the smart TV ticker you'll actually like, especially during the World Cup" was originally published by TechHive.