Perfectly Instagrammed cups of coffee and slices of cake look so good you can almost smell them. But what if notes of caramel or butter really wafted through the screen? Restrain yourself, because your dreams are about to come true.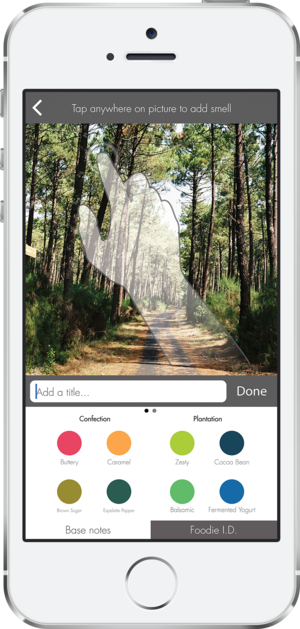 The oPhone, a gadget that transmits scented messages from an iOS app to your nose, on Tuesday launched an Indiegogo campaign to bring a 21st century version of Smell-O-Vision to your smartphone. Harvard engineering professor David Edwards worked with a team at the university and at his Le Laboratoire Paris to develop the oPhone and its corresponding app, oSnap.
You need both the app and the oPhone to send scented messages. How it works: Take a photo in the app and tag it with up to eight scent notes ranging from "baguette" to "tropical." Email the snap to a friend, or share it on Facebook and Twitter. This is where it gets a little complicated—without the oPhone, your friend will be able to see the photo, but not experience the scent. You can still create oNotes and tag them with scents, but you won't be able to retrieve them until you visit a hotspot, currently only in Paris and at the American Museum of Natural History in Manhattan. A curator will pull up your oNote and let you inhale it.
The scent of a photo
The oPhone is a strange-looking device: Two white cylinders sit atop a mirrored white box, emitting the scents. Inside the box are chips, or what Edwards calls neurons, which contain the dried materials that comprise each base scent—think of them like printer cartridges that you'll eventually be able to buy for $20 a pack. When the oPhone detects a Bluetooth signal from the iOS device, the neurons turn so the material inside is exposed to airflow. That's how you pick up the scent. Edwards is developing a pocket-sized version of the oPhone called the Uno.
Edwards demoed the Duo by receiving what he called the "first transatlantic scented message" from Paris. The message was a photo of macarons (passion fruit and chocolate, of course) with glasses of champagne. Edwards' cohorts in Paris chose cocoa, tropical, and champagne as the primary scents. There are 32 base scents, and you can combine up to eight scents, so there are thousands of combinations.
Edwards then passed around the Duo so the reporters at the Natural History Museum could catch a whiff of Parisian food. The scent was tropical and slightly artificial, not as intensely aromatic as chocolate and champagne are in real life. I didn't exactly feel like I was in Paris, which was disappointing.
"It's focused on foodie experiences right now," Edwards said. "That will broaden. By fall, we'll have other vocabularies."
The team is talking to car companies about driving applications, for instance a dashboard-mounted oPhone that releases the scent of coffee to make you feel more alert when you're nodding off at the wheel.
The Indiegogo campaign is aiming to raise $150,000 to bring oNotes to store shelves. You can buy a $149 oPhone if you back the project, or you can wait for the retail version out next April for $199. To check out the oPhone at work in the States, visit the American Museum of Natural History for three weekends starting July 12.
This story, "How a Harvard engineer is turning your latte art into a sensory message" was originally published by TechHive.