Apple iPad, Day 26: Adding It All Up
30 Days With the iPad: Day 26
Throughout the course of the 30 Days With the iPad project, I have purchased or recommended a variety of peripherals and apps to help the Apple tablet fulfill its duties as a PC replacement. Let's take a look back, and figure out what the overall price tag might look.
First, we have the iPad itself. As I covered on Day 2, when you consider the different storage capacities, Wi-Fi only vs. 3G, and AT&T vs. Verizon there are actually quite a few options for a device that really only comes in one flavor. The iPad requires an investment between $500 and $830 depending on what you choose.
I am using my iPhone 4 as a Wi-Fi hotspot if I need connectivity on the go. I already had the iPhone 4 anyway, so that cost doesn't count. Besides, the additional $20 a month for the privilege of sharing the 3G connection is an expense I would already have and use for connecting my notebook when there is no Wi-Fi connection as well.
For now, I am using a 64GB Wi-Fi only iPad, so my price tag is $700.
Cumulative Price Tag: $700
Many apps are provided for free, but require an investment in the backend service in order for it to have any purpose. For example, the Netflix app is useless without a Netflix subscription, and the Fuze Meeting app won't do you much good without some sort of Fuze Meeting account. Box.net and Remember the Milk (RTM) are free apps, and have free services, but you might spend additional money for more advanced plans.
I am not going to include those backend costs here because I am assuming that I would still use those services and have those costs regardless of my use of the iPad. I won't bother listing or tallying apps that I ended up not keeping or recommending. I also won't bother listing out the money I spent on games (it was a lot!).
But, I still spent a fair amount of money on apps over the past few weeks. Let's add that up:
• Pages - $10
• Numbers - $10
• Keynote - $10
• Files Connect - $5
• PhotoGene - $3
• LogMeIn Ignition - $30
• VIPOrbit - $10
• MyPad+ - $1
Cumulative Price Tag: $779
I don't want the glass touchscreen getting scratched or cracked while the iPad is sitting around, or while it is in transit, so it needs some sort of case or cover. I started out with the Apple SmartCover. The SmartCover comes in two versions (and a variety of colors)--there is the synthetic cover for $40, and the leather cover for $70.
I had the leather cover, but I returned it on Day 11 when I decided to go with the Logitech Keyboard Case to meet my typing needs when using the iPad 2 on the go. For $100 the Logitech Keyboard Case serves double-duty protecting the glass front of the iPad 2, and providing an adequate Bluetooth physical keyboard.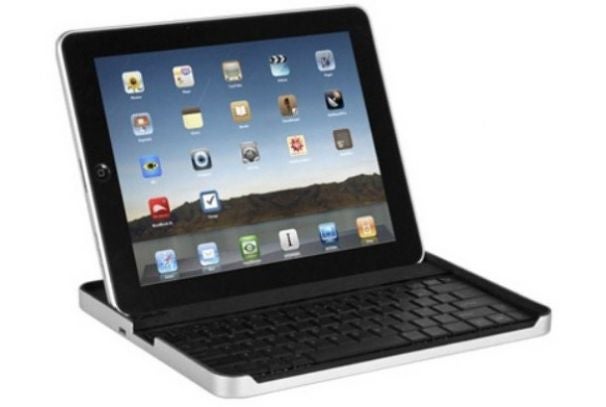 Cumulative Price Tag: $879
Depending on the printer you have, you might need to invest in an upgrade in order to print from the iPad. Whether you use the AirPrint functionality native to iOS, or a vendor-supplied app, connecting the iPad to a printer wirelessly requires compatible printer hardware. I got lucky because my Epson Artisan 710 is supported by the free Epson iPrint app, so no additional cost for me here.
When it came to setting up my iPad as a desktop workstation, though, I incurred some additional expenses. I won't count things like my monitor or speakers because I already owned those peripherals. But, I needed the $40 Apple Digital AV Adapter to connect my iPad to the HDMI connection on the monitor, and I invested another $70 for a full-size wireless keyboard.
Cumulative Price Tag: $989
So, when all is said and done, I spent roughly $1000 to make my iPad experience as close to my Windows 7 notebook experience as possible. Obviously, your mileage will vary depending on the apps and peripherals you end up needing.
If you are truly going sans PC, the $30 for the LogMeIn Ignition app is unnecessary. But, if you don't have a compatible printer you could end up spending another $200 or $300. You could choose a different model iPad 2, a different case or keyboard, etc. For me, it tallies to just under $1000.
For comparison sake, the new 11" MacBook Air--with a physical keyboard, slightly larger display, USB and Thunderbolt ports, Intel Corei5 processor, 2GB of RAM, and 64GB SSD storage--is also $1000. The Dell XPS 15z--with a more powerful Intel Core i5 processor, 6GB of RAM, a 500GB drive, USB and HDMI ports, and a DVD/RW drive is also $1000.
While the iPad itself starts at a reasonable $500, turning it into a platform capable of replacing a PC quickly adds up. The iPad does still bring some unique advantages into the mix, but when you look at the total investment required it is much more difficult to make a case for switching from a PC to an iPad.
Read the last "30 Days" series: 30 Days With Ubuntu Linux
Day 25: Can a Business Replaces PCs With iPads?
For comprehensive coverage of the Android ecosystem, visit Greenbot.com.