The weather is heating up, which makes it the perfect time to heat up our outdoor kitchens. Namely: The grill. Whether you go for charcoal or gas, meats or veggies, or sauces or rubs, there is a multitude of tools and gadgets to help you barbecue to perfection. Nowadays, even your smartphone can prove itself a handy companion for the outdoor chef. Just download one (or several) of the apps listed below and get cooking over the open flame. 
Grill-It!
The best way to get revved up for barbecue season is with a good selection of grill-ready recipes, and Grill-It! ($2, iPhone and iPad; $1, Android) provides just that. This app offers dozens of recipes, as well as tips on how to marinate and grill certain types and cuts of meat. It's super simple to navigate, with a well laid-out main menu that divides recipes into seven categories: Beef and lamb; poultry; pork; starters and sides; burgers, dogs and more; vegetables; and seafood.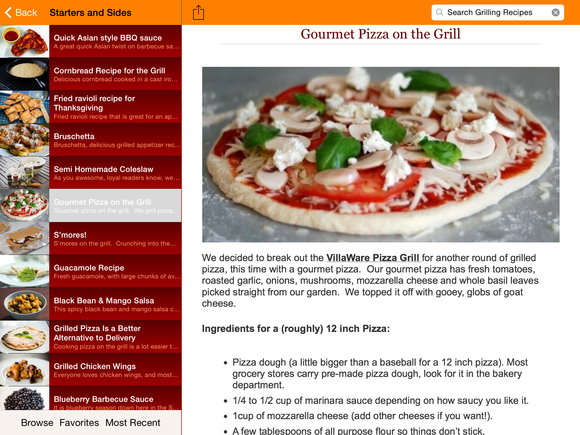 I'm a bit disappointed that beyond just one turkey recipe, the poultry section only includes chicken, but that is mollified somewhat by the fact that there's actually an entry for making French fries on the grill—that one came as a surprise. In addition to browsing by category, you can search by ingredient, add recipes to a "favorites" section and view the newest additions in the "latest" section, which is a nice way to get inspiration if you want to go off-the-cuff. 
BBQ Grill Recipes 
BBQ Grill Recipes (free, Android) is an excellent app that provides a multitude of recipes with lovely, full color photographs of each dish. Upon opening the app, you're greeted with a simple but mouthwatering main menu divided into categories. Save recipes you like in the "Your Favorites" category, or browse popular recipe categories like beef barbeque, grilled salmon and grilled asparagus. There's also a search button at the top and a side menu that brings out a few more options, like the ability to create a shopping list by adding ingredients from each recipe. You can also easily share the recipes you love through social media or by text or email.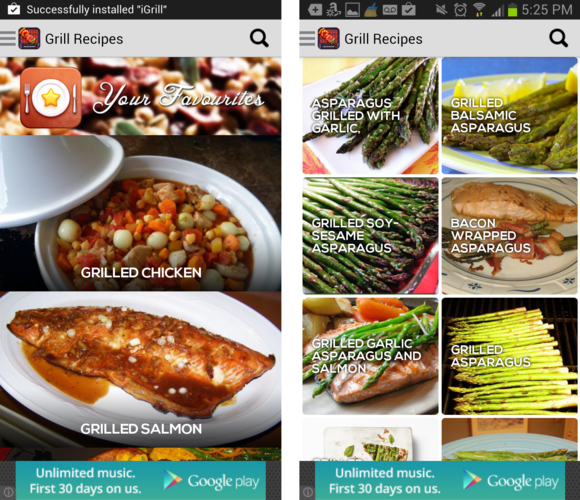 Omaha Steaks Steak Time
People are pretty picky when it comes to their steak, and it can be a finicky item to cook on the grill. Which is why it's a good idea to get some advice from someone who knows steak, and Omaha Steaks fits the bill. The popular steak purveyor has created a free app aimed at budding grill masters.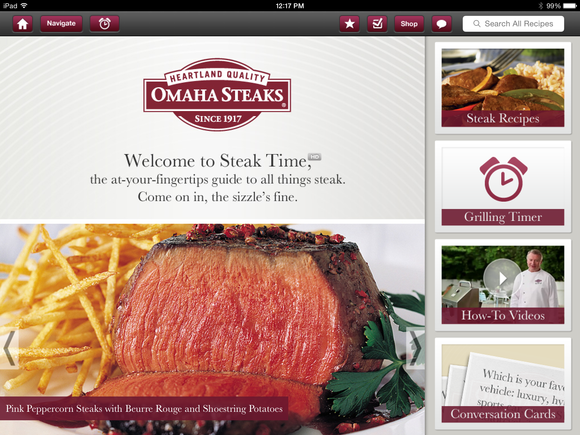 In addition to a hefty selection of recipes (created with the company's own products in mind, of course), Omaha Steaks Steak Time (free, iOS and Android) offers up a handy timer. Simply input the thickness of meat and desired level of doneness, and the timer calculates the rest. What's really useful, though, is that you can set multiple timers for different steaks that you're cooking at the same time, helping to ensure that you and any guests get exactly what you're craving. The app also includes a Steak 101 section where you can learn all you ever cared to know about steak, as well as some how-to videos, a grocery list feature and—naturally—a link to the Omaha Steaks store.
Pit Pal
Has anyone ever told you that barbecue is all about science? Specifically: Consistency, control and technology. Or at least that's the credo of the creators of the Pit Pal BBQ App (free, iOS and Android) a free tool designed to help grillers create consistently awesome barbecue.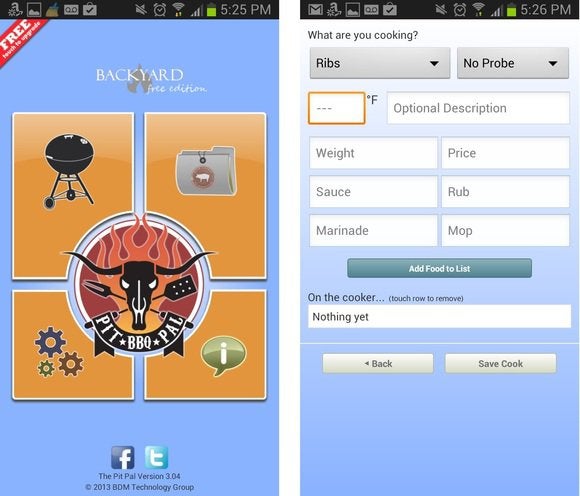 The app is a dream for lovers of data and stats, allowing you to track temperatures of various meats over the span of a cook, as well as common events such as mopping, adding coal or wood, saucing and foiling. The goal is for the user to track the history for any foods involved in a cook, and then be able to access that data in order to achieve consistency in grilling. A pro version is available for $2 extra that allows for charting and exporting of data.
BBQ TankMeter
There's nothing worse than getting all the ingredients ready for a good cookout only to discover that you're about to run out of propane. BBQ TankMeter ($2.50, Android) can help you avoid this potential disaster. This propane gas gauge, which is designed to work with a standard 20-pound tank, measures propane levels acoustically and then displays the amount in a graphical meter. The app features eight color-coded bars, and you know it's time to refill the tank when the meter gets into the lower red zone.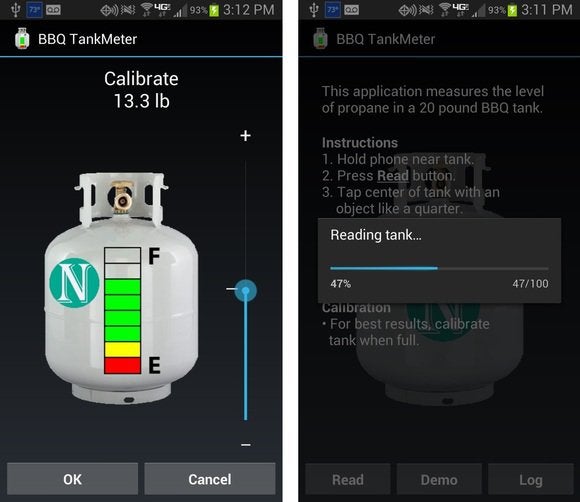 For iOS users, there's a similar app—Blue Rhino's Rhino Gauge (free, iOS)—but rather than actually measuring, it depends on you to enter usage information. It will also show you nearby Blue Rhino locations for your refill needs. 
The perfect app-cessory: The iGrill Mini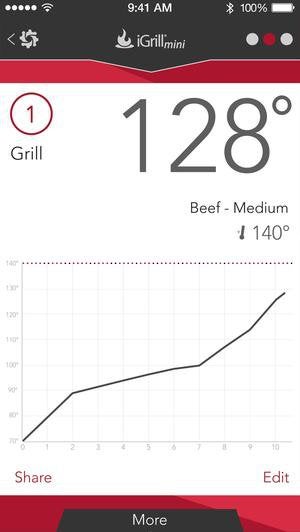 Although many experienced grillers go by look and feel alone, the best way to ensure consistent quality and thoroughly cooked (but not overdone) meats is with a thermometer. If you don't already own a meat thermometer, you may be interested in the iGrill Mini ($40 device; free app compatible with iOS, Android coming soon), a smart thermometer with a nifty companion app that lets you monitor the temperature of your food from the comfort of your couch.
There's even a dashboard that graphs your progress, and alarms to let you know when you've reached minimum and maximum temps.
Update: An earlier version of this article stated the iGrill Mini app as free for both iOS and Android. iOS is out now, and Android is coming soon. The article has been corrected.
This story, "Six smokin' apps for grillin' at your next BBQ" was originally published by TechHive.