Page 2 of 2
Price: In pre-release; price not yet set
This tool is more focused on analytics than the others covered here. Tap11 lets you monitor the vast Twitterverse to listen to what is being said about your company, track how much exposure your tweets get, discover which Twitter accounts wield influence within your industry and receive email alerts when news relevant to your products or services breaks.
I really like the analytics tools and reporting in Tap11. It is valuable from a social media marketing perspective to be able to track and monitor the audience for your tweets. You can send the same message out with different wording or at different times of the day, and monitor to see which tweets are getting the most exposure. Information like this can help you optimize your social media marketing efforts.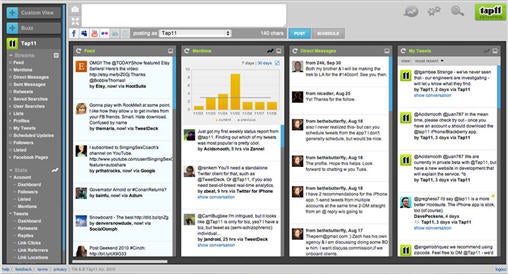 Like many of the other tools reviewed here, Tap11 lets you work with Twitter more efficiently by letting you schedule outbound tweets. However, Tap11 is not as robust when it comes to features for managing -- adding or unfollowing -- Twitter followers.
One advantage Tap11 does have over most competing products is mobile integration. Sendible has its iPhone app, but Tap11 has apps for iPhone and BlackBerry.
As this was being written, Tap11 was still a pre-release trial; pricing had not yet been set.
Price: $55/1 profile; $74/5 profiles; $110/10 profiles; $188/unlimited profiles
TweetAdder provides a variety of tools for managing and streamlining your Twitter activity. TweetAdder tries to help you grow your Twitter following by, among other things, automating tweets, retweets and replies.
An Overview screen provides a simple, at-a-glance synopsis of the current state of affairs for your Twitter accounts (TweetAdder can handle as many accounts as you purchase TweetAdder licensing for). A green power icon indicates that automation is enabled for a given feature -- such as sending retweets or @replies -- while a red circle icon illustrates that the automation is disabled. Just select a Twitter account and click on the "Open User" button at the bottom to access the configuration and make any changes for that account.
One of the ways TweetAdder helps minimize the noise is by allowing you to automate the following and unfollowing of other Twitter accounts. You can automatically follow accounts based on interests or keywords, follow users who follow a specific account, or follow back Twitter accounts that start following you. If there are Twitter lists that you would like to follow, you can also automate the addition of accounts from the list to your list of Twitter accounts to follow.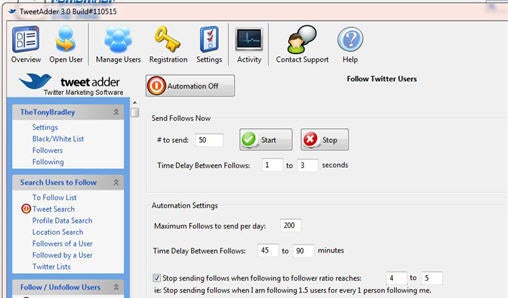 This approach has pros and cons. While you may increase the number of accounts following you, you could also end up following hundreds or thousands of Twitter accounts that you aren't really interested in, that have no real interest in your product or topic, or that aren't even following you in return. TweetAdder also lets you automatically unfollow accounts that are not following you back. You can also set up a "white list" of Twitter accounts that are off limits for unfollowing, meaning those that you want to follow regardless of whether they follow you back or not.
For each of the various tools in TweetAdder, you have the ability to control how often the automated service runs, how many accounts can be followed or unfollowed in a given session, and what the maximum number of follows or unfollows is per day. You can also establish thresholds to direct TweetAdder to stop following or unfollowing when your ratio of accounts following you to accounts you are following reaches a specified threshold.
Aside from helping to manage Twitter followers, TweetAdder can also manage tweets. You can use TweetAdder to automatically send out tweets, retweet tweets from specified users or tweet messages from an RSS feed. TweetAdder can also be set up to automatically reply when a tweet mentions your Twitter account, and to send a direct message to new followers, which you can use to direct new Twitter followers to your website or Facebook page, or to promote a specific product or service.
There are TweetAdder versions for Windows, Mac OS X and Linux (the Linux client is a beta version). TweetAdder pricing is based on the number of Twitter accounts being managed: $55 for one account, $74 for five, $110 for 10, and $188 for an unlimited number of accounts.
MediaRoost
Price: Free (1 user, up to 3 accounts); $14.95/user/month (up to 25 accounts per user)
TweetRoost lets you monitor, save, categorize, schedule and analyze Twitter traffic from up to 25 accounts (if you use the for-pay Pro account). When you sign up for TweetRoost, you are set up with your own subdomain of tweetroost.com (such as computerworld.tweetroost.com), which is where you log in to manage your TweetRoost account and oversee your Twitter activity.
TweetRoost displays your default stream with the status updates from the accounts you follow.
On the surface, TweetRoost behaves like a typical Twitter client application. It displays your default Twitter stream with the status updates from the accounts you follow, along with a box at the top where you can add your own updates. A column on the right displays information about your Twitter profile, including the number of accounts being followed and the number of users following your Twitter account.
At the top of your page, there is a field for searching Twitter. In and of itself, searching Twitter is not new or unique, but TweetRoost lets you save your searches and continuously monitor the search terms for new updates. This can be a great method of tracking feedback and comments related to your company, or specific products or services.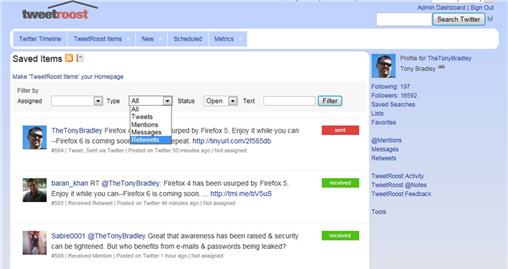 With TweetRoost, you can manage your Twitter accounts more efficiently by scheduling updates and messages. TweetRoost also includes some built-in metrics. You can review retweets and mentions in either table or graph form over different periods of time and monitor trends in followers of a given Twitter account over time.
Two things I like about TweetRoost are its ability to save tweets and its integration with Klout. Twitter is a dynamic medium; there is such a high volume of tweets that old ones disappear quickly. TweetRoost lets you maintain your own local database of tweets, mentions and direct messages in a searchable database for as long as you like.
Klout is a site that ranks the scope and reach of your social networks with a Klout score. It is a simple, yet effective tool for monitoring how your social networking efforts are working when it comes to establishing your brand and influencing followers. Your Klout score can be integrated into your TweetRoost analytics and reporting.
TweetRoost is platform-agnostic (because it is a Web-based service). It is free for individuals, but the free version is limited to a single user and a maximum of three Twitter accounts. For $14.95 per user per month, you can sign up for the TweetRoost Pro account, which lets you add unlimited users and up to 25 different Twitter accounts to manage. There is a 45-day evaluation period that provides free access to the features of a Pro account, but it is limited to three users and three Twitter accounts.
Bottom line
When it comes to simply managing your Twitter account and minimizing the noise on Twitter so you can focus on the tweets that are important -- or at least relevant -- TweetAdder comes out on top. It offers the best bang for the buck with one-time pricing rather than monthly or annual subscriptions, and it has a clean, simple interface.
However, for a more comprehensive application that provides a sophisticated toolbox for managing social media in general, I choose Sendible. Sendible is like a Swiss Army knife for social media marketing that makes communicating with followers or customers a more streamlined and efficient process, while also providing the reports and analytics to help you figure out what works and what doesn't.
My only complaint about Sendible is the price. If you want a less expensive platform for managing social networks, MarketMeSuite is a very capable tool as well, and the $34.99 deal gives you the ability to manage unlimited accounts for an entire year for less than the cost of managing only 15 accounts on the Sendible Solo plan for three months.
This story, "6 Tools That Help Businesses Tame Twitter" was originally published by Computerworld.