Page 2 of 3
Process watch
Inside a PC there are thousands of individual software processes running, including those that interact with your computer's CPU, RAM and hard drive. The fabric of a working computer is the sum of these processes.
Top Process Monitor gadget

Use Top Process Monitor to keep an eye on software processes that are using lots of system resources.
The Top Process Monitor gadget acts as your PC's greatest hits chart, showing which processes are using your computer's resources the most. It can show the top processes for various operations including CPU use, memory use, virtual memory use, input-output operations and drive reads and writes.
You can also choose to view any individual process along with its usage data, or have the gadget cycle through any group of them. It's the ultimate snoop to see what's going on inside your computer.
On top of letting you adjust the size of the gadget, Version 2.5 of Top Process Monitor lets you choose which type of operations to display and customize the number of individual processes to show (up to 20) and the colors used.
A nice touch is that Top Process Monitor lets you set a threshold for the amount of system resources any process uses. If it's exceeded, the software gives you a warning. It's a great help if, for example, a sloppy program is using too much virtual memory.
Download Top Process Monitor (139KB)
Connection info
Having connectivity problems? The Network Meter gadget can help you keep an eye on your connections.
Network Meter gadget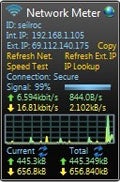 Network Meter displays a wealth of information about either a wired or a wireless connection.
Network Meter takes the concept of "utility" to its natural conclusion. It's chock-full of key networking data, including current upload and download speeds as well as total data moved. It even shows your system's internal and external IP addresses.
The gadget can show you data about a wireless or wired connection as well as the network interface card in use. It's a great first step in troubleshooting a faulty Web connection, helping you pinpoint where to start: the router, the broadband connection or inside the PC.
You can adjust the gadget's size, color scheme and how often it gets new data. At any time you can refresh the local or external IP address, which in itself can save a minute or two of clicking. There's also a link to SpeedTest.net to check your online bandwidth.

The DC Wireless Network Monitor gadget, on the other hand, shows only the Wi-Fi basics in a tiny rectangle that takes up almost no room on your desktop. Below the main signal strength bar is the name of the network you're connected to as well as the system's IP address and a padlock symbol if it's an encrypted link.
And that's about it, except for the ability to change the color of the gadget. It's ideal for minimalists who just want to keep an eye on their wireless connection.
Download DC Wireless Network Monitor (42KB)
Disk space and usage
Wondering how much space you have left on your hard drive or whether your drive is working too hard or overheating? O&O DiskStat brings that info and more to your desktop.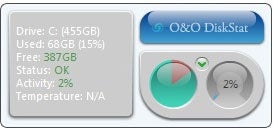 By default, the gadget shows two circular gauges: One is a pie chart of drive capacity and availability, and the other shows the drive's activity level. When the drive is idle, it shows 0%; when it's maxed out, it shows 100%.
If the S.M.A.R.T. drive-monitoring technology is enabled on your system, DiskStat shows the hard drive's temperature below the gauges. You may be able to enable S.M.A.R.T. in your system's BIOS or use a utility like Ariolic's ActiveSMART ($30), which doesn't require a system restart to work.
Click on any part of the DiskStat gadget and it doubles in size, revealing a new section with more details about the drive, including its size and free space.
O&O DiskStat can look at only one drive or disk partition at a time; you choose which drive to monitor in the setup screen. Click on the monkey wrench icon on the right side to get to it.
Of all the gadgets I've seen, O&O DiskStat is the best looking; it displays the right amount of information without seeming cramped. There are two skins that can help this gadget fit into your desktop decor, and you can remove the O&O logo for a minimalist approach. You can't adjust its size, but the gadget lets you choose whether you want the temperature displayed in Celsius or Fahrenheit.

Those who have multiple hard drives or multiple disk partitions on a single drive should consider running Drive Meter as well. It shows how much data is going into and coming out of each drive as well as its percent utilization.
It doesn't watch the drives' temperature or show you how much space is available, but it provides a good way to keep an eye on disk activity for up to three drives or partitions simultaneously.
An eye on graphics
Unlike general system gadgets, GPU Monitor cares about just one thing: your graphics processing unit and how well it is running. A fount of information about your system's graphics and video, this gadget can help pinpoint problems whether you have a budget PC with integrated graphics or a high-end system with a discrete GPU.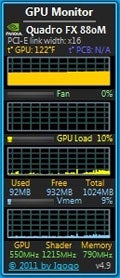 In addition to showing which accelerator chip your system uses and key stats such as video memory used and graphics processor load, GPU Monitor shows the chip's and graphics board's temperatures. You can have the gadget warn you with an audio alarm if the graphics subsystem starts overheating, although it can't initiate a system shutdown to prevent damage.
For those experiencing intermittent problems with video, GPU Monitor can keep a log file containing info on any of five main graphics parameters, such GPU temperature and if the fan is on, along with time stamps to help troubleshoot the issue.
GPU Monitor presents a lot of data and can seem crowded, but you can customize it by limiting the types of data it shows, showing data in separate graphs or a single one, and changing the gadget's size and color combination.
Note: Some users with integrated graphics systems might need to load the RivaTuner software, which collects the data that GPU Monitor shows. It's free, and you can download it from within the gadget.
Next Page: Even more gadgets...