Apple Boosts iPhone Orders for the Rest of 2011
Apple has ordered 26 million iPhone 5s from suppliers to be delivered in the second half of 2011, it has been claimed.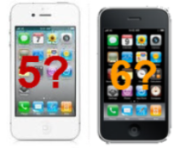 Digitimes reports that Apple has ordered six million iPhone 5s for Q3 and 20 million for Q4, according to "Taiwan-based supply chain makers".
Total iPhone shipments will reach 95 million for the year, with some 56 million in the second half alone. As well as the 26 million iPhone 5s, there will be 30 million shipments of the current models, the iPhone 3GS and iPhone 4.
The report also states that component suppliers are likely to be put under pressure by Apple to lower prices, in particular touch-panel makers.

Amazon Shop buttons are programmatically attached to all reviews, regardless of products' final review scores. Our parent company, IDG, receives advertisement revenue for shopping activity generated by the links. Because the buttons are attached programmatically, they should not be interpreted as editorial endorsements.