Page 2 of 2
Yoono
The Yoono Firefox add-on is a great tool for managing multiple social networks. Yoono adds a (hideable) sidebar to your browser, and it can multitask: It consolidates your various social networks' status updates into one stream, lets you update your status across all of your social networks at once, and even supports some chat applications.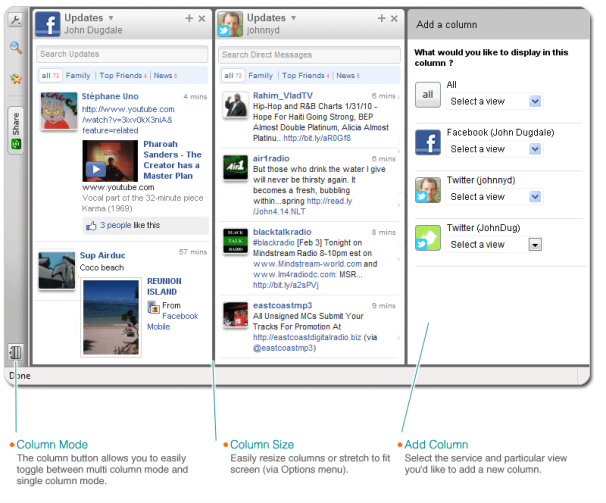 Yoono currently supports AIM, Facebook, Flickr, Foursquare, FriendFeed, Google Talk, LinkedIn, MySpace, Twitter, Yahoo Messenger, and YouTube.
Shareaholic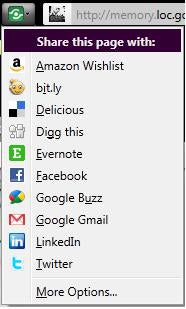 If you don't feel like installing a dedicated social networking toolbar such as Facebook's, but you still want to be able to share links with your assorted social networks, Shareaholic might be for you. The Shareaholic Firefox add-on adds a small, unassuming Shareaholic button in the top-left corner of your browser, beside the back/forward buttons.
When you find an amazing page that you want to share, simply click the Shareaholic button to see a drop-down menu. Select the service you want to use (default services on the list include Amazon Wishlist, Bit.ly, Delicious, Digg, Evernote, Facebook, Google Buzz, LinkedIn, and Twitter), and share away.
TinyURL Generator
Lengthy links are annoying--especially if you're trying to share something within the strict 140-character constraints of Twitter. The TinyURL Generator Firefox add-on makes creating short links a breeze. This add-on adds a small link button to the lower-right corner of your browser.

To generate a TinyURL, go to the page you want to link to, and then click the link button. A TinyURL will automatically generate and copy to the Clipboard, and then you can paste it anywhere--on Facebook, Google+, Twitter, the Excel sheet you're working on, you name it.
StumbleUpon
StumbleUpon is both a social network and an excellent way to find fodder to share with your other social networks. Unfamiliar with the service? It takes you to a "random" Web page (though "random" actually means customized according to your preferred categories) when you click a button. You can then tell StumbleUpon whether you "like" or "dislike" the page, and StumbleUpon's algorithm learns what types of "random" pages to show you, based on those preferences.

The StumbleUpon Firefox add-on not only lets you "stumble" and rate pages, but also gives you buttons for sharing pages with social networks (Facebook, Twitter) and by email, as well as buttons for interacting with the StumbleUpon community. In other words, this toolbar is perfect for content junkies who need fresh material.
Pearltrees
Pearltrees is a different way to share content on the Web. It's a social network and sharing system in and of itself, though it also connects to Facebook and Twitter. Pearltrees lets you "curate" trees or webs of pearls. Those trees are dynamic connections, and you can add, remove, and reconnect pearls (links you find on the Web). Pearltrees are particularly cool as you curate more and more, because you end up with a web of intuitive connections.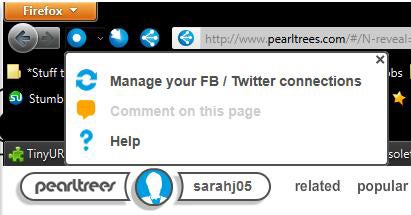 The Pearltrees Firefox add-on makes curating Pearltrees a cinch. The add-on inserts three buttons to the left of your browser's address bar: a pearl button that lets you add the page you're browsing to your current tree; a button for choosing where to put your pearl; and a home button that takes you to your Pearltree account.
See? Social networking doesn't have to be a time-consuming chore. With these add-ons, keeping current on all the latest news should be a snap.