Page 2 of 4
Building Your Custom Page: DIY or Hire a Pro?
When you create a custom Facebook page, it appears as an additional page along the left side of the page navigation. A custom page includes your own text, images, videos, newsletter sign-up, and so forth--all specific to your business and branding. You can designate a custom page to be the default page that people see, in place of your Wall.
A custom page will allow your business to stand out from others. People are 40 to 50 percent more likely to like your page and become a fan if you have a custom tab as opposed to the generic standard Facebook page, according to BrandGlue, which tested a Facebook fan page with the custom tab on and again with it off. A custom page lets you can add branding and increase customer engagement.
Should you create your own custom page or hire a professional? Here are some factors to consider:
• Do you have time to create a custom page?
• Do you have a server to host your page on, if you plan to build the page with iframes?
• Do you know HTML? Many third-party applications require at least a basic knowledge of HTML, and you must know it to build a custom page with iframes.
If your answer to any of these questions is no, you should hire a professional. Otherwise, go ahead and create your own custom page.
Building a Custom Page With a Third-Party App
Various third-party applications are available for creating a custom Facebook page. They are useful if you don't know HTML or you don't have a Web server but you want to dress up your page with images and text in a custom layout.
One such tool is Pagemodo, a simple WYSIWYG editor that lets you create a layout and edit sections by clicking on each part and adding the content. You can also easily change fonts and colors via the online editor. Pagemodo doesn't require any knowledge of HTML; it has a point-and-type interface, and a version containing all of the tool's basic features is free.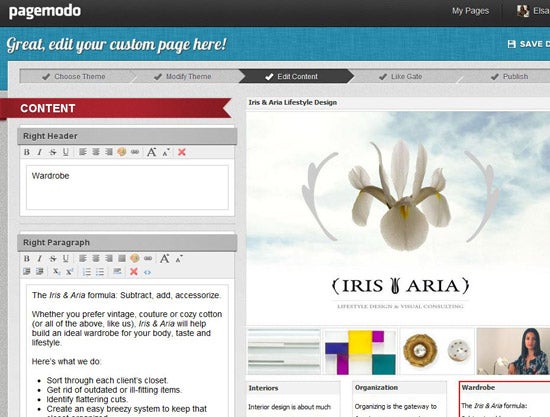 Third-party applications like Pagemodo are easy to use, and they let you quickly craft a custom page. But they lack the design flexibility of a page created with iframes, and they leave you dependent on them. If a free service suddenly decides to charge a fee or goes out of business, you'll be out of luck. DIY types will also prefer to build their own page.
To get started with Pagemodo, go to its website, and click Start Now! Connect With Facebook. A standard 'Request for Permission' pop-up box will appear; click Allow. If you have more than one Facebook page, a pop-up box will ask you to select the page that you want to add the tab to. Alternatively, you can click a link to set up a new Facebook page. Click the Choose button. The site will then present you with an array of templates to choose from in creating your page. Most of the templates are free, but some are available only with the paid version of Pagemodo.
To create a custom page with Pagemodo, first select a theme and then modify it by selecting the layout and colors you want to use. Selections made on the left will appear on the right.
Now you're ready to edit content. Open the Edit Content tab, and click any element on the right side of the page in order to edit it. For example, click an image area to upload an image there.
Pagemodo's 'Like Gate' feature is available only with paid accounts. It requires vistors to 'Like' your page before they can see its content. Businesses frequently use this arrangement in connection with coupons or other special offers, but it's unnecessary if you don't plan to offer those to customers.
The Publish step is where you select a name for your custom page tab, and where you can share the page with friends or fans. If you're using the free service, you'll have to 'Like' Pagemodo's Facebook page, and a link to Pagemodo will appear at the bottom of your custom Facebook page. The app will display a final preview of the page so you can edit it before publishing. Once you publish the custom page, it will appear live on your Facebook fan page.
Next page: How to work with iframes for more complex pages...