Page 3 of 4
Build Your Own Custom Page With Iframes
An iframe is code used to pull content from one website into another.
You've probably seen them used with Google Maps and Calendars. For instance, you can pull a Google map of your business location into your Web page via iframe code. Facebook uses similar code in its iframe application, allowing you to pull a Web page you've created into a custom Facebook page.
To build a custom page with iframes, you must know HTML and have experience with creating Web pages and uploading them to a Web server.
Start by creating an HTML, PHP, or other type of Web page and uploading it to your Web server. If you already have a business website, you're good to go, though you may need to adjust a page to satisfy Facebook's size restrictions. Facebook has established a maximum permissible width of 520 pixels, and pages work best at between 480 and 500 pixels wide. The iframe application will later import the page you made into Facebook.
Once you've created the page to import into Facebook, you'll need to create the iframe application. You perform this step at the Facebook Developers site, a subsection of Facebook. If you've never used the Developers site before, you may need to create a new account using your existing Facebook login. Click Apps in the top navigation bar, and then click the Create New App button. After you create the app, you'll be on its basic settings page. It should already have your email address filled in and provide you with an application ID and application secret ID.
To add your own custom icon to the page, click the Edit icon within Facebook. You'll find the icon in the left-side navigation next to the name of your custom Facebook page.
In the 'Basic Info' section, fill out the App Display Name field. This is the name of your custom page within the Developer's area, the name of your application in your Edit Page area (as discussed below), and the name of your custom page. You can rename your custom page in the Edit Page area, meaning that you don't have to display the name that appears in the 'App Display Name' field on your Facebook page.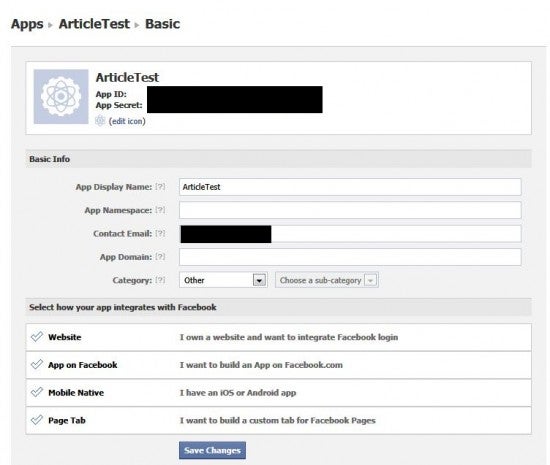 Next, click the App on Facebook section and fill out the Canvas URL field. (Starting on October 1, filling out this field will be mandatory.) This consists of the URL to your uploaded page without the name of the page included--for example, http://yourdomain.com/facebook/. Now go to the section at the bottom called 'Page Tab' and create your Page Tab Name.
You must also identify the 'Page Tab URL'--the full URL to the page you created, such as http://yourdomain.com/facebook/demo.html. (Starting in October, you'll need a secure Page Tab URL.)
On the left, under 'Settings, Advanced', are the 'Canvas Settings', which determine page width and height. You should be fine with the default values, so save your changes. On the left side of the page, under 'Related Links', click View App Profile. From that page, click Add to My Page. If you administer more than one Facebook page, select the correct one.
Go to your Facebook page and click the Edit Page button at the top right. Select Apps in the links along the left side. Locate the app that you just created, and then click Edit Settings to add the tab to your page. (Select Edit Settings a second time if you want to rename the tab.)
Remember that the Facebook page, via an iframe, is importing content that you've uploaded separately to your Web server. If you want to change the content on the Facebok page, you must first edit the file that you created for your website and then reupload it to your Web server.
SSL Requirements
As of October 1, all Facebook applications will be required to have SSL certificates to ensure secure browsing over Facebook. Since Fcaebook considers a custom page created with iframes to be an application, the server that your page is hosted on must have a SSL certificate; otherwise, people won't be able to view your page. Ask your Web host for more information about SSL certificates and their cost. Once you have the certificate, fill out Facebook's Secure Canvas URL and Secure Page Tab URL fields for your application.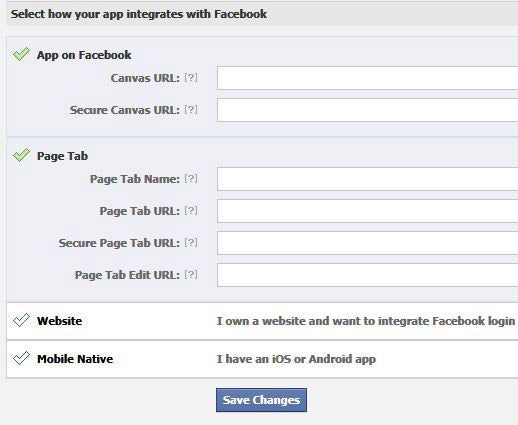 Other Third-Party Apps for Facebook Pages
Various other third-party applications can help you build a custom Facebook page. Be sure to review the cost and the requirements of each before selecting one. Not all of them are free, and many require at least a little knowledge of HTML.
Wildfire is best known for its applications that allow you to run a contest or sweepstakes on Facebook, but the service also has a custom page tool. It is currently free but Wildfire plans to charge for it in the future. Apparently, free users will be grandfathered in to the paid version.
Involver has a suite of applications for Facebook. Static HTML pages will create a custom page tab. The application requires knowledge of HTML. You can use two of Involver's applications for free; but using additional ones will trigger a fee.
Iwipa is a free application for Facebook pages; it doesn't require any knowledge of HTML.
What to Seek in a Professional
There are a number of questions to ask when hiring a professional to create your custom Facebook page. First, ask to see a portfolio of the person's work. Even designers who don't have a lot of experience should have created some sample pages.
You'll also want to know the cost, payment methods, and terms, and how long the project will take. A single Facebook page should run between $200 and $500. Other questions to ask: Will the designer be hosting the page, or do you need your own server? How will SSL be handled? Will the designer create the graphics or will you be responsible for providing them?
Next page: Now you've got a page. What's next?