How to Check Out E-Books From Your Local Library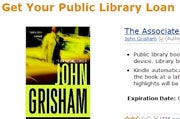 Thousands of libraries across the U.S. can now loan ebooks through Amazon. They can be delivered to your phone, iPad, Kindle or PC/Mac and are free with your library membership. Check your local library for more details.
For comprehensive coverage of the Android ecosystem, visit Greenbot.com.

Amazon Shop buttons are programmatically attached to all reviews, regardless of products' final review scores. Our parent company, IDG, receives advertisement revenue for shopping activity generated by the links. Because the buttons are attached programmatically, they should not be interpreted as editorial endorsements.