A PC Built Inside a Keyboard: Cybernet's ZPC-D5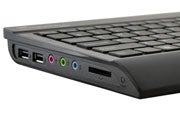 Cybernet's ZPC-D5 PC has an Atom processor, 4GB of RAM, a 250GB hard drive, and runs Windows 7 Professional. And it's all contained within a keyboard. For $650, you get a small, portable PC that saves space without compromising too much.

Amazon Shop buttons are programmatically attached to all reviews, regardless of products' final review scores. Our parent company, IDG, receives advertisement revenue for shopping activity generated by the links. Because the buttons are attached programmatically, they should not be interpreted as editorial endorsements.