Microsoft Lowers Flags to Half-Staff in Tribute to Steve Jobs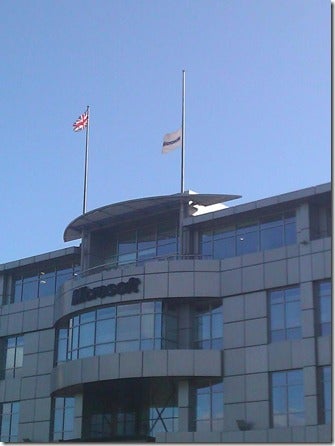 As a tribute to Steve Jobs, Microsoft will fly its flags at all its worldwide offices at half staff for two days, reports the blog site Microsoft news. Here is a photo taken of the Microsoft UK offices.
I congratulate Microsoft on this show of respect. Although the two companies were often bitter rivals, Steve Jobs and Bill Gates were also friends. In Gates statement on Jobs' death released yesterday, Gates said, "Steve and I first met nearly 30 years ago, and have been colleagues, competitors and friends over the course of more than half our lives. ... For those of us lucky enough to get to work with him, it's been an insanely great honor. I will miss Steve immensely."

Amazon Shop buttons are programmatically attached to all reviews, regardless of products' final review scores. Our parent company, IDG, receives advertisement revenue for shopping activity generated by the links. Because the buttons are attached programmatically, they should not be interpreted as editorial endorsements.