New Supply Figures Stoke iPad3 Speculation
With the wrapping off the first boxes of the iPhone 4S and in the hands of phone fans, the Apple rumor mill can start spinning out stories about the next version of the company's other mobile cash cow, the iPad 3.
All Things Digital is running a story quoting Susquehanna Financial analyst Jeff Fidacaro, who claims that supply chain checks indicate that 600,000 to one million iPad 3 devices are set to be built in the fourth quarter of calendar 2011.
The analyst suggested that the new version of the iPad would ship in early 2012, possibly March, like the iPad 2 launch earlier this year.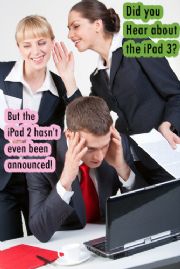 However, a separate speculative commentary on iPad 3 development thinks that this date is skewed.According to CNET source The Linley Group, Apple is likely to bring the A6 processor to the iPad 3. That processor will feature four cores instead of the dual-core A5 in the iPad 2. However, the CNET report added that an A6 chip in the iPad 3 was unlikely to appear before June 2012 at the earliest.
Apple of course declined to comment.
Product mentioned in this article
(1 items)
Apple iPhone 4S family

$145.00 (When Rated)

via AT&T

Amazon Shop buttons are programmatically attached to all reviews, regardless of products' final review scores. Our parent company, IDG, receives advertisement revenue for shopping activity generated by the links. Because the buttons are attached programmatically, they should not be interpreted as editorial endorsements.
For comprehensive coverage of the Android ecosystem, visit Greenbot.com.