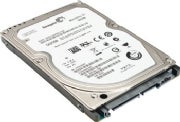 The Seagate Barracuda XT ST33000651AS internal hard drive did very well in our tests of 3TB hard drives earlier this year. The drive usually sells for around $200, but for a limited time TigerDirect.com is selling it for only $160.
For hot tech bargains in your inbox every week, subscribe to the PCWorld Bargain Bulletin newsletter.
This story, "Seagate Barracuda XT 3TB Internal Hard Drive, $160" was originally published by PCWorld Exclusive.