Page 3 of 3
January 2nd: InfoWorld launches Save XP, a last-ditch effort to convince Microsoft to continue selling and supporting Windows XP indefinitely. It eventually Fedexes Steve Ballmer a thumb drive containing a petition with 210,000 signatures. Microsoft listens politely but takes no immediate action.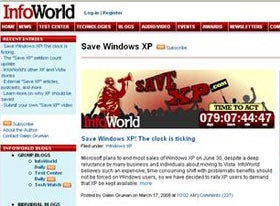 April 3rd: Microsoft introduces another loophole to its plans to do away with XP: Makers of a kind of new laptop that the company calls "ULCPCs" (that's short for "Ultra-Low Cost Personal Computers") can continue to use XP until June 30th 2010 or one year after Vista's successor is released. The rest of us call ULCPCs by a different name: "netbooks." And Microsoft doesn't have much of a choice but to allow continued use of XP on these machines: Vista is too much of resource hog to run well on many of them.
How about other sorts of PCs? Sorry, Microsoft says: Windows XP will go away on June 30th. No reprieves, no stays of execution.
May 6th: Microsoft introduces Windows XP Service Pack 3, a week after detecting a last-minute compatibility glitch and delaying its release. It's the final major update to XP. Unlike SP2, it's not a very big deal–but it is XP's final major update. From then on, the OS will get only essential security patches.
June 23rd: Dell says that customers don't want it to stop selling Windows XP PCs. So it'll continue doing so–for one extra week.
June 30th: Windows XP officially dies. Sniff!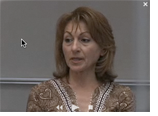 July: Convinced that Windows Vista's bad reputation is unfair, Microsoft conducts a bizarre experiment: It shows Vista to a bunch of XP users and tells them that it's an upcoming version of Windows, code-named "Mojave." And then it releases videos of these folks saying how impressed they are by it.
October 3rd: Microsoft, who had told PC makers they could only provide XP "downgrade" discs with Windows 7 machines through January 31st, 2009, extends the deadline until July 31st, reports the Register. It also says that manufacturers would like the deadline pushed even further to please customers who don't want to move to Windows 7 anytime soon.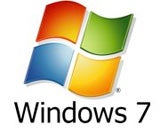 October 28: Microsoft's Vista recovery begins in earnest as the company releases a technical preview of Windows 7. It's Vista's successor–and, really, what Vista should have been in the first place.
December 22: Despite having supposedly killed XP at the end of June, Microsoft says it'll continue shipping copies for sale in shrink-wrapped form and on new PCs through May 30th, 2009.
April 28th: Assuaging the fears of corporate customers, Microsoft announces Windows XP Mode, an optional downloadable feature of the upcoming Windows 7 that will allow it to run a virtualized copy of XP, thereby permitting businesses to run old apps that would otherwise be incompatible with the new OS.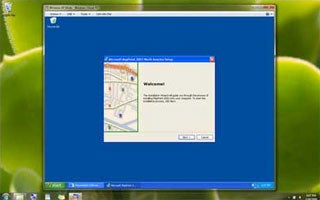 April 30th: Microsoft's Mike Nash confirms that netbooks (which he doesn't call ULCPCs) will be allowed to come with Windows XP preinstalled for a year after Windows 7 is available.
August 17th: As Windows 7′s release nears, Technologizer (hey, that's us!) and PC World survey almost 5,000 Windows XP users. They say they're still comfortable with XP and really dislike Vista–but that they like the looks of Windows 7.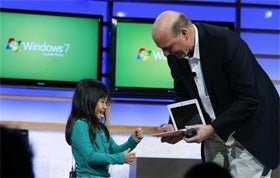 October 22nd: At another New York launch event, Microsoft rolls out the final Windows 7, hoping that XP users find it more alluring than they did Vista. The event isn't too splashy and the company makes surprisingly modest claims for the upgrade, avoiding the declarations of epoch-shifting amazingness that accompanied the Vista introduction. (The festivities include an appearance by Kylie, the little girl from a popular series of commercials for Windows.)
February 12th: A Microsoft security patch seems to trigger XP Blue Screens of Death, although Microsoft later says the real culprit is a rootkit that's leveraging a 17-year-old bug.
July 12th: Bowing to worried corporate customers, Microsoft tells them they'll be able to "downgrade" copies of Windows 7 into Windows XP licenses for the entire support cycle of Windows 7–currently scheduled to end in January 2020, more than eighteen years after Windows XP's release.

September 16: Microsoft says that its upcoming browser upgrade, Internet Explorer 9, will never run on Windows XP–a fact that might nudge some XP users to upgrade to Windows 7, but mostly seems to leave them irritated that they're being deprived of an intriguing new piece of software.
October 22nd: Microsoft stops allowing XP to be pre-installed on netbooks, the last class of retail-oriented computer that had gotten an extension.
September 13th: At Microsoft's BUILD conference in Anaheim, Windows chief Steven Sinofsky provides the first in-depth look at "Windows 8," which remains a code name for Windows 7′s successor. With its simplified touch-screen interface, it shows the influence of the iPad and has little to do with anything that was on Microsoft's mind when it created Windows XP a decade earlier. Yet it gives XP holdouts one more reason to skip Windows 7 and wait for yet another future Windows release.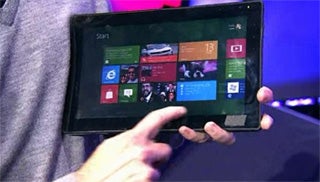 October 13th: According to Web research firm Statcounter, Windows 7 finally overtakes XP as the Internet's most-used operating system. However, some other companies that track OS usage still show XP in the lead.
October 20th: Computerworld reports on the state of XP and Windows 7 in corporate America. It's still everywhere:
In a September survey of Computerworld readers, 88% of respondents said they have begun or are planning a move to Windows 7. Of those who said they have already moved to Windows 7, or will, some 82% say their organizations are still running XP — down from 93% in our January 2010 survey — and 73% say they're running Windows 7.

But 55% of those still running XP expect to fully transition to Windows 7 by the end of 2012, and 34% said they would transition some time before Microsoft ends extended support for XP in April, 2014. And 11% said they would continue to run XP after that date. (During extended support, no-charge incident support ends, warranty claims won't be honored and design changes and feature requests aren't available.)

According to Microsoft, about one in four enterprise machines runs Windows 7 today. Erwin Visser, senior director of the Microsoft Client Commercial Group, says enterprise adoption is growing fast. But as Computerworld's survey shows, many large IT organizations are taking their time.
What's next for Windows XP? Nothing much. That's kind of the idea–most of the individuals and businesses who continue to prefer XP do so precisely because it's so predictable. The word "bulletproof" comes up a lot when I talk to them about it. This software is as stable as it's ever going to be. It's never going to get new capabilities that might cause unanticipated problems. It's going to continue to work with older devices. It's just going to continue being the same Windows it always was–a quality that appeals to millions and is the exact opposite of the radical reimagining that the OS will undergo with Windows 8.
Officially, Microsoft stopped selling Windows XP on June 30th 2008 (although there were, and are, plenty of ways to get it after it was supposedly gone) and ended "mainstream" support on April 14th, 2009. It says that it'll stop supporting it, period on April 8th, 2014. At that point, corporate customers will be allowed to downgrade to XP, and will be permitted to continue doing so until January 2020. Even that long-off deadline isn't going to make everyone happy.
If there's one thing that Windows XP's continued popularity in the Vista and Windows 7 eras has shown, it's that Microsoft's deadlines–be they fungible or firm–have very little to do with XP's fate. Redmond doesn't get to decide which version of Windows people use; people do. It's a refreshing reminder of who's in charge. The world will get rid of Windows XP when it's good and ready–and for now, the world thinks that it's anything but obsolete.
This story, "The Life and Times of Windows XP" was originally published by Technologizer.