Nokia Releases First Mango Phones, Crosses Fingers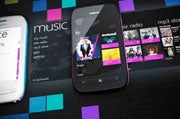 This week Nokia unveiled their first Windows Phone 7 models, the Lumia 800 and 710. Both run the newest version of Microsoft's OS, nicknamed Mango. Can they help the company regain the customers it has recently lost?

Amazon Shop buttons are programmatically attached to all reviews, regardless of products' final review scores. Our parent company, IDG, receives advertisement revenue for shopping activity generated by the links. Because the buttons are attached programmatically, they should not be interpreted as editorial endorsements.