iOS Refresh Fixes iPad 2 Smart Cover Security Flaw
Apple has fixed a security flaw affecting the Smart Cover for the iPad 2, it has been reported.
9to5Mac reports that among the changes in iOS 5.0.1 is a fix for the bug in how iOS handles the Smart Cover that makes it possible to bypass the iPad's passcode screen.
It works by preventing the iPad 2 to go to sleep when the Smart Cover is closed while the iPad 2's power off menu is being displayed.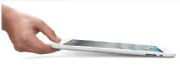 Apple updates iPad 2 Smart Cover line
iOS 5.0.1 has been issued to developers as a beta after Apple yesterday conceded that there is a problem in iOS 5 that affects battery life.
"A small number of customers have reported lower than expected battery life on iOS 5 devices. We have found a few bugs that are affecting battery life, and we will release a software update to address those in a few weeks," Apple spokeswoman Natalie Harrison told Macworld.
Product mentioned in this article
(1 items)
Apple iPad 2 family

The iPad 2 remains a solid choice, thanks to its lower price and strong app choices.
For comprehensive coverage of the Android ecosystem, visit Greenbot.com.