Page 2 of 3
What Your Clients Need for Intune
The computers or clients that you want to manage remotely with Intune must be running one of the following editions of Windows (in either 32-bit or 64-bit): Windows XP Professional, Service Pack 2 or SP 3; Windows Vista Enterprise, Ultimate, or Business edition; or Windows 7 Enterprise, Ultimate, or Professional edition.
Each PC that you enroll is eligible for a free upgrade to Windows 7 Enterprise (and to future Windows versions), but the PC must already be running a Business, Professional, Ultimate, or Enterprise edition of Windows. Though it's not required, the Enterprise edition provides the best experience, and it has additional Windows features, such as BitLocker encryption.
If the client computers already have antivirus protection, you may want to uninstall them before installing the Intune client software. By default, Intune won't activate Intune Endpoint Protection for antivirus if it detects another antivirus program on the machine. However, you can enforce its use by creating a policy with Windows Intune.
Discovering the Client Software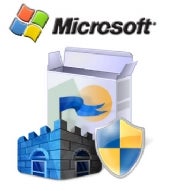 Once an end user opens the Intune Center from a desktop, the status of both the Windows Intune service and Windows Intune Endpoint Protection appear. Users can request remote assistance for tech support, which activates an alert on your admin console, and (if appropriately configured) emails a notification to the chosen admin. Additionally, it can display your tech support contact details.
If Windows Intune Endpoint Protection is installed, end users will see it running in their PC's system tray.
Configuring Windows Intune
To set up Windows Intune, start by logging in to the administration console. Once there, you'll want to configure these main settings.
Create user groups: Creating user groups comes in handy if you'd like to have a different set of update, antivirus, or firewall settings for particular groups of clients--for instance, groups organized by company department or by different security needs. To create groups, open the Computers workspace and, on the left Tasks list, click Create Computer Group. Once end-users have the client software installed on their machines, and the systems appear on the admin console, you can add them to the appropriate groups.
Create policies: You can use policies to define the settings for the antivirus tool, the Windows Intune Center, and Windows Firewall--with the ability to select specific user groups for deployment. To create policies, open the Policy workspace and, on the left Tasks list, click Create New Policy.
Configure update settings: To avoid having to approve every available update for your clients manually, you can configure Intune's update settings to approve updates automatically based on the category (such as software title) or classification (such as critical, security, or service packs). To configure the update settings, open the Administration workspace and select the Updates page.
Configure alert and notification settings: You can choose which alerts you want to remain active, enter email addresses for notifications, and specify the email addresses that receive each alert type. To configure these settings, open the Administration workspace and select Alerts and Notifications.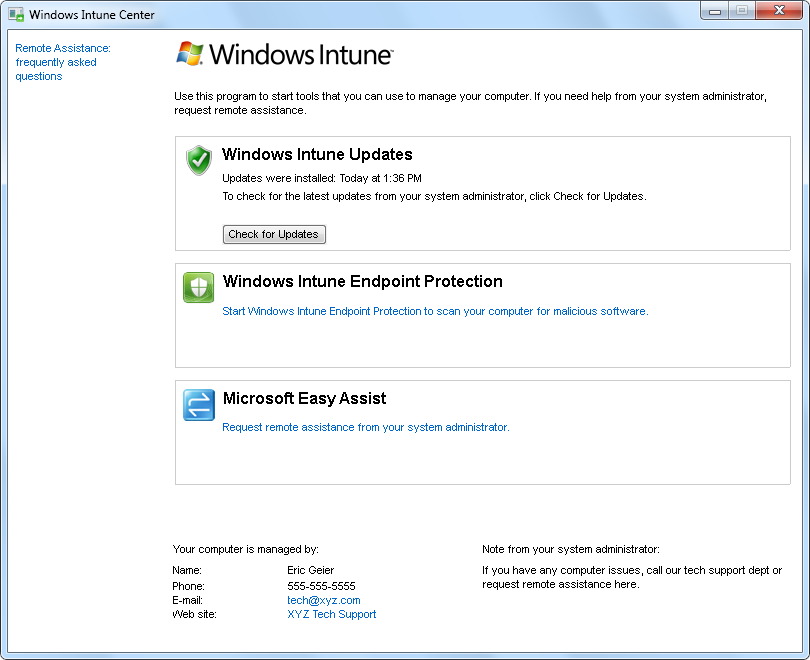 Add additional administrators: If you have more IT staff to help manage Windows Intune, you can give them administrative access by entering their Windows Live ID. To do so, open the Administration workspace, select the Administrator Management page, and choose relevant the type of administrator.
Adding Clients
When you're ready to bring clients online, open the Administration workspace. Click Client Software Download, and then click the Download Client Software link. You can manually distribute and install the software, or you can automate the process if the client computer is joined to Active Directory or to System Center Configuration Manager. Even if you have to set this up manually, you'll find that the simple installation doesn't require you to input account details or settings; even end users can probably handle this.
Once Intune has installed the client software, it can take the software up to 30 minutes to download and install other required programs and agents, and to start reporting back to the admin console.
If you've defined different user groups, you'll next want to assign clients to the appropriate groups as the clients appear on the admin console.