Page 6 of 6
Hot Shots Golf: Out of Bounds | PlayStation 3
The Hot Shots Golf games have made up one of the most user-friendly series in the sports genre, with fun, fluid gameplay that's easy to pick up, but keeps you playing. Out of Bounds marks the series' PS3 debut, and it introduces some noteworthy additions to the established series, such as a modified shot system, worthwhile online play, and a slick HD graphical overhaul. Hot Shots Golf: Out of Bounds is certainly worth a look for those that're even slightly interested in the game of golf -- and even for those who aren't.
Pro Evolution Soccer 2012 is the latest in a yes, evolving , soccer simulation franchise. The great thing about Pro Evolution 2012 is that no two teams play the same, and so you get a real feel and appreciation for the different clubs throughout the world. The dribbling controls are varied and give you plenty to think with, and the organic feel of the game and responsive AI make every match feel unique. Play as an international side or as Arsenal, Chelsea, Real Madrid​ or any one of dozens of football clubs from around the globe.
Super Mario Sluggers | Wii
Mario Super Sluggers​ is Mario flavored baseball, and a sequel to Mario Superstar Baseball on GameCube. As a Wii game, MSS uses controls similar to the baseball game in Wii Sports; players swing the Wii remote to hit and simulate an overhead throw to pitch. The game sees players unlock characters, stadiums, and preventing Bowser Jr. from taking over the ballparks in Challenge Mode. Mario Super Sluggers is far from being the greatest baseball game, but it is a kid-friendly combination of America's favorite past time and everyone's favorite plumber. Not to mention it's a must-have for diehard Mario fans.
One of the more underrated titles on XBLA and PS3. 3 on 3 NHL Arcade is intended for the NFL Blitz and NBA Jam​ set--the people who are more concerned with big hits and flaming footballs than accurate physics. It includes power-ups like extra speed and "big player," and can be a real blast to play. The only thing holding it back is that some of the power-ups are poorly coded, and will actually hurt your players. D'oh.
iOOTP Baseball | iOS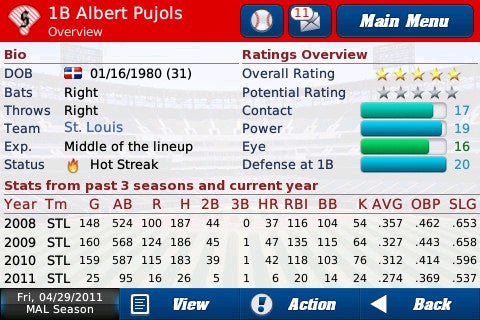 Out of the Park Baseball is, without a doubt, the best baseball-management sim out there. The iPhone version, in our opinion, is better because you can now take it on the go. The game is a sim; no hitting pitches, painting home paint, or making diving catches. Rather, you play as the manager and GM, making decisions that affect your team on every level. You can sim the 2011 season (our Oakland A's finished 78-84, just four games ahead of their real 2011 season), play a fictional season, or replay one of three historical seasons (1923, 1965, or 2004) and see how your outcome differs from history. It's addictive and a lot of fun, and we're eager to see next year's version.
This story, "The 15 Best Sports Games" was originally published by GamePro.