How to Remove Malware From Your Windows PC
Step 5: Fix Your Web Browser
Malware infections can damage Windows system files and other settings. One common malware trait is to modify your Web browser's homepage and/or connection settings to reinfect the PC, display advertisements, prevent browsing, and generally annoy you.
Before launching your Web browser, check your homepage and connection settings. In Internet Explorer, click Start, Control Panel, and open Internet Options. Find the Home Page settings, and verify that it's not some site you know nothing about.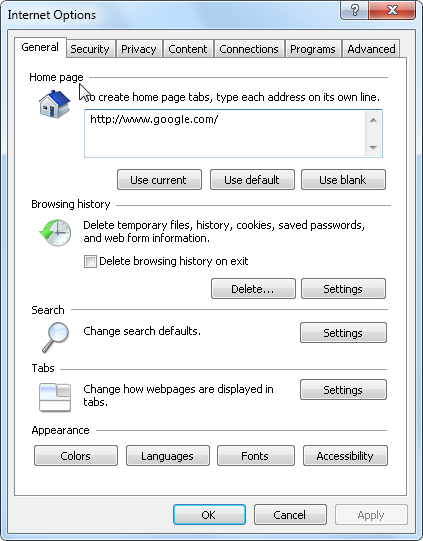 Next, select the Connections tab and click the LAN settings button. You'll probably want to select Automatically detect settings next, unless your work or ISP requires a proxy.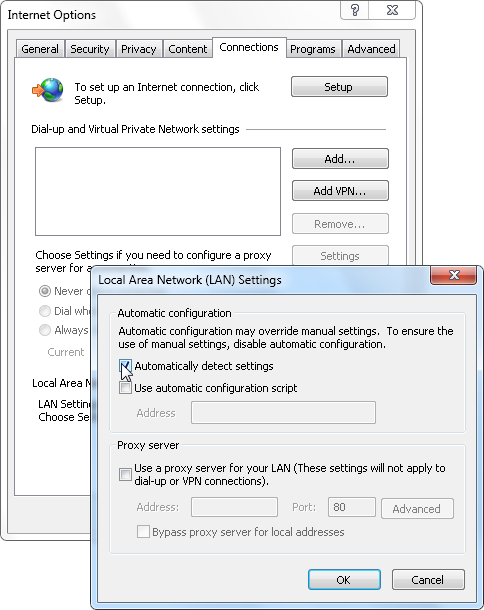 Step 6: Recover Your Files If Windows Is Corrupt
If you can't seem to remove the malware or if Windows isn't working properly, you may have to reinstall Windows. But before wiping your hard drive, copy all of your files to an external USB or flash drive. If you check your email with a client program (such as Outlook or Windows Mail), make sure that you export your settings and messages to save them. You should also back up your device drivers with a utility such as Double Driver, in case you don't have the driver discs any more. Remember, you can't save installed programs. Instead, you'll have to reinstall the programs from discs or redownload them.
If Windows won't start or work well enough to permit you to back up your files, you may create and use a Live CD, such as Hiren's BootCD (HBCD), to access your files.
Once you have backed up everything, reinstall Windows either from the disc that came with your PC or by using your PC's factory restore option, if it has one. As when accessing Safe Mode, you must press a certain key on the keyboard in order for the system restore screen to load. If you have a factory restore option, your PC should tell you what key to press in the first few seconds after you turn it on.
Keeping Your PC Clean
Always make sure that you have a real-time antivirus program running on your PC, and see that it stays updated. If you don't want to spend money on yearly subscriptions, you can choose one of the many free programs that provide adequate protection, such as Avast, AVG, Comodo, and Microsoft Security Essentials. For more information on these options, read "Top 5 Free Antivirus for 2011."
In addition to installing traditional antivirus software, you might consider using the free OpenDNS service to help block dangerous sites. And if you frequent shady sites that might infect you with malware, consider running your Web browser in sandboxing mode to prevent any downloaded malware from harming your system. Some antivirus programs, such as Comodo, offer sandboxing features, or you can obtain them through a free third-party program such as Sandboxie.
When you think that you've rid your PC of malware infections, double-check your online accounts, such as for your bank, email, and social networking sites. Look for suspicious activity and change your passwords--because some malware can capture your passwords.
If you have a backup system in place that automatically backs up your files or system, consider running virus scans on the backups to confirm that they didn't inadvertently save infections. If virus scans aren't feasible, as is the case with online systems, consider deleting your old backups and resetting the software to save new backups.
Keep Windows, other Microsoft software, and Adobe products up-to-date. Make sure that you have Windows Update turned on and enabled to download and install updates automatically. And if you receive any pop-ups messages from Microsoft or other legitimate companies to update your system's software, do it immediately.
Eric Geier is a freelance tech writer. Become a Twitter follower to keep up with his writings. He's also the founder and owner of NoWiresSecurity, which helps small businesses easily protect their Wi-Fi network with Enterprise-class security (WPA2 with 802.1X).