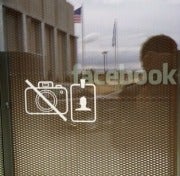 Back in April, I attended a press event at Facebook's Silicon Valley headquarters, at which Mark Zuckerberg rhapsodized about the company's new data center in Prineville, Oregon -- the first one it built for itself. It was interesting. But it wasn't nearly as interesting as visiting the Prineville facility for myself, which I got to do this week along with a few other journalists. It's the place where Facebook lives -- and an awful lot of effort goes into making sure that the site loads up quickly and reliably every time every one of those 800 million active users pays a visit.
It may take a lot of effort to make Facebook hum, but it doesn't take a lot of people on site in Prineville. The 333,400-square foot facility has tens of thousands of servers -- Facebook would prefer not to get any more specific than that -- but it takes only 55 people to run it, about half of whom are involved in security. (On the other hand, the construction project created 1400 temporary jobs.) Still, the arrival of a Silicon Valley giant has had a big impact on Prineville, a small community smack-dab in the middle of Oregon in an area once called "the Tibet of North America," and until recently best known as the former headquarters of the Les Schwab tire store empire.
Our tour was led by Ken Patchett, the Prineville site manager, and a veteran of data centers operated by Google, Microsoft, and Compaq. Here are some photographic highlights; you'll see him in a couple of the pictures.
Behold the napkin where the idea that became the Prineville data center was first sketched out.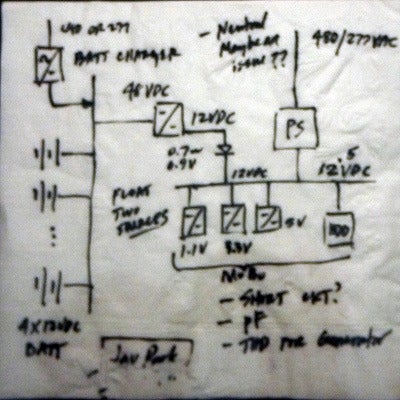 Patchett stressed to us that it's crucial that Facebook and Prineville form a bond, so that nobody in town perceives the social-networking giant as an interloper from the big city. The Prineville facility is full of vintage photos of local citizens, such as these gents posing with Old Scout, an Oldsmobile that was the first car to reach the area.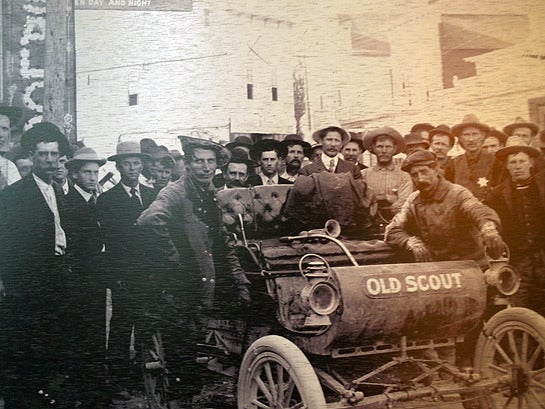 A modern item of Prineville memorabilia: A Facebook quilt made by quilters at the Prineville Senior Center, showing how Facebook connects the world.